DIY Outdoor storage bench - free plans by ANA-WHITE.com
Dimensions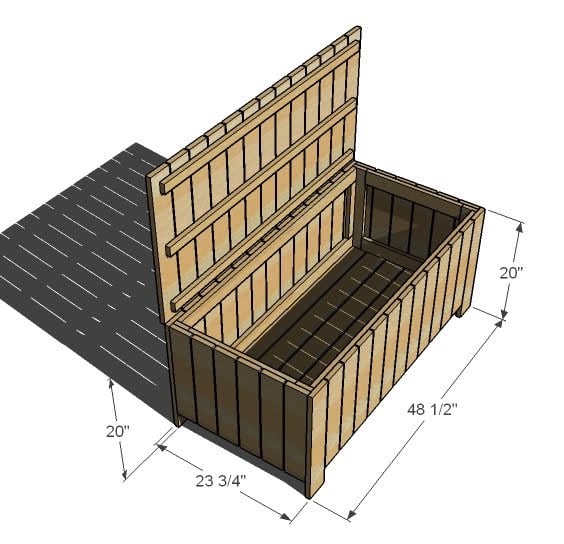 Overall Dimensions are shown above.
Preparation
Shopping List
15 – 1×4 Boards, 8′ Long
6 – 1×3 Boards, 8′ Long
2 – 1×2 Board, 8′ Long
2 Door Hinges for exterior use
Common Materials
1 1/4 inch screws
2 inch screws
1-1/4" Pocket Hole Screws
120 grit sandpaper
primer
paint
paint brush
Cut List
CUT LIST FOR SIDE PANELS
4 – 1×4 @ 20″ (Legs)
22 – 1×4 @ 17″ (Side Slats)
4 – 1×3 @ 45 1/2″ (Frame Boards, Top and Bottom)
4 – 1×2 @ 11 1/4″ (Frame Boards, Ends)
CUT LIST FOR END PANELS
12 – 1×4 @ 17″ (End Panel Slats)
4 – 1×3 @ 16 1/4″ (Frame for the ends)
4 – 1×3 @ 17 1/4″ (Frame for the tops and bottoms)
CUT LIST FOR THE BOTTOM
6 – 1×4 @ 47″ (Bottom)
CUT LIST FOR THE TOP
13 – 1×4 @ 23 3/4″ (Top Slats)
3 – 1×2 @ 45 1/2″ (Top Frame Supports)
General Instructions
GENERAL INSTRUCTIONS I decided to break this plan down into sections because I know that you are probably a busy mom just like me and only have one naptime a day. I'm certain that you could build a panel a day, and have a bench by the weekend! Same rules apply when you build this bench, make sure you are using straight boards, working on a level surface that is clean (even a tiny bit of sawdust can throw you off). Make sure you check every panel for square as you are building it. To save you some time, round up a piece of 1/4″ plywood and use it as a spacer when screwing your slats down. Be safe and have fun!
Instructions
Step 1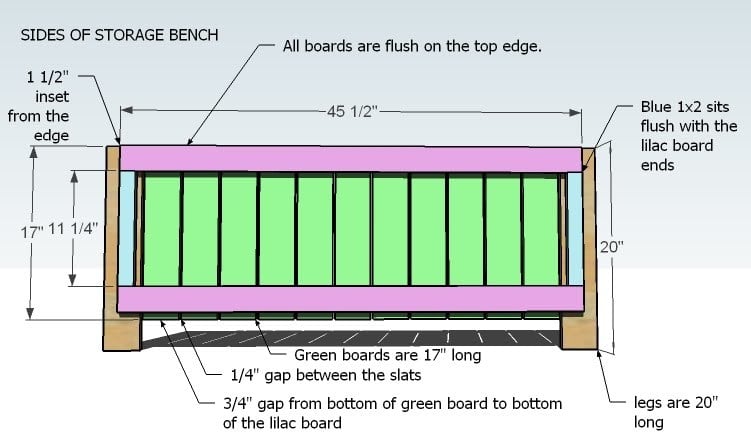 1: SIDE PANELS
Build two side panels as shown above. The easiest way to do this would be to start with one of the legs. Mark the leg 1 1/2″ in (you could just use a 1×2 since it's 1 1/2″ wide) from the outside. Then attach the pink board to the top corner, as shown above. The space a green board 1/4″ from the leg and attach to the pink board. For now, I would just use 1 screw. Attach all of the green boards and the remaining leg to the top pink board. Then carefully adjust all of the boards unitl the outside corners of the legs are square with each other. Then add the blue boards to the legs, and then the remaining pink boards. Go back and add more screws to the top frame board. Use 1 1/4″ screws and glue. Build two side panels.
Step 2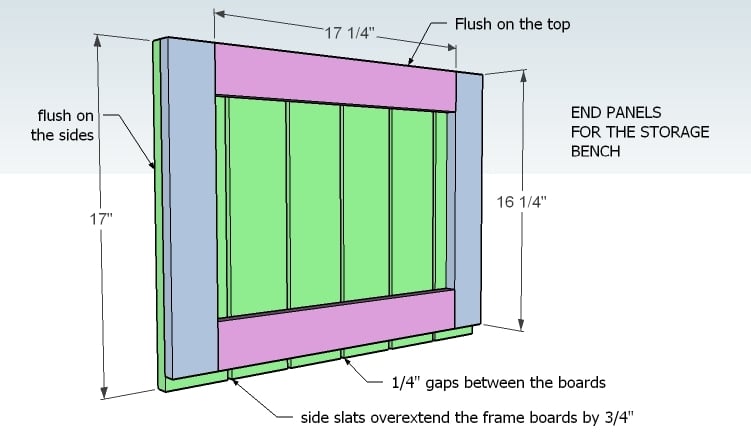 END PANELS
The end panels are going to be super simple. Start by screwing a blue board to a green board to create your ends. Then lay your all of the green boards down, including the two with the blue boards screwed to the tops, and lay the pink boards on top. Screw the pink boards to the green boards using 1 1/4″ screws and glue. Make sure you are checking for square and there is a 3/4″ gap under the bottom pink boards. All other outside edges are flush. You will need to construct two end panels.
Step 3
Step 4
Step 6
FINISHING
You probably already finished the pieces (or at least each panel) so just add paintable silicone to any exposed screws or imperfections, lightly sand, and apply a touch up coat. You may also wish to spray on a clear coat for added protection from the elements.