A fun shelf to build and creative at the same time.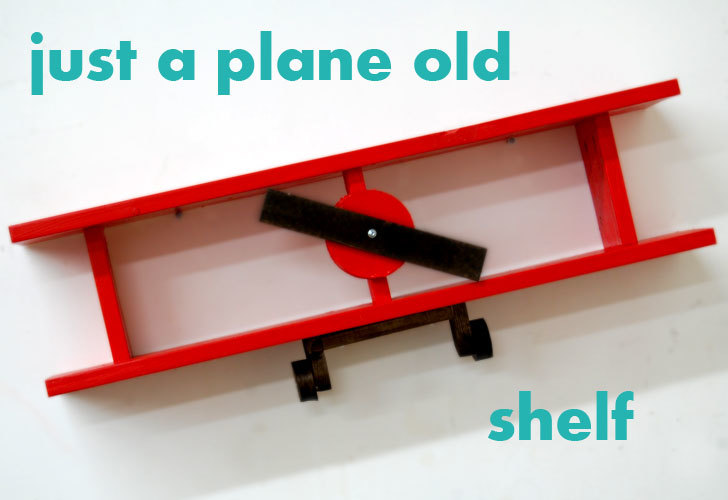 Nothing fancy.  Just a plane old shelf, made from plane old boards.
Screwed together in a rather unfancy way, with a simple coat of paint.
I don't have a son to build this for, but I can imagine Grace's pink walls covered in white plane shelves, manned with Barbie pilots in evening gowns.  Where would you put your plane shelf?  What would you put in it?  Or who would you give one too?
Dimensions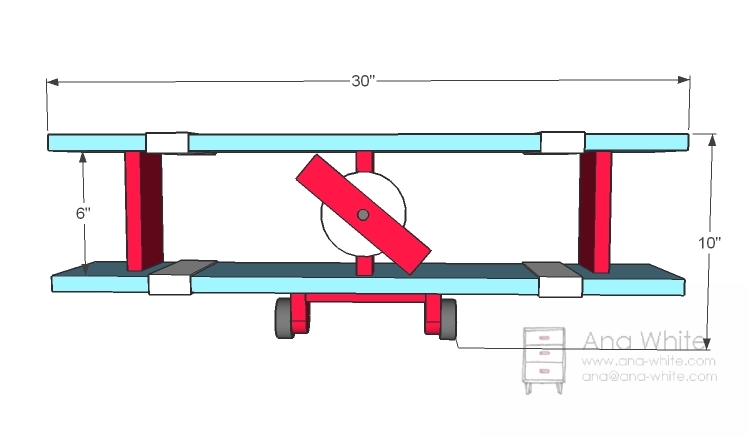 Dimensions are shown above. I used pine or whitewood boards. For a propeller, I used a wood survey stick, otherwise known as lath. Try a paint stir stick for a pre-shaped propeller.
Preparation
Shopping List
1 – 6 foot long 1×6
20″ of 1x2s
12″ of 1x4s
2″ screws
1 1/4″ screws
wood glue
finishing supplies
Common Materials
120 grit sandpaper
primer
wood conditioner
paint
paint brush
Cut List
2 – 1×6 @ 30″
2 – 1×2 @ 6″
2 – 1×4 @ 6″
1 – 4″ diameter circle (cut from 1×6 scraps)
2 – 2″ diameter circles (cut from 1×6 scraps)
2 – 1×2 @ 2 1/2″
Instructions
Step 1
Step 2
Step 3
Step 4
Step 6
Step 7
Step 8
Finishing
Fill holes with wood filler and finish as desired.
Times gonna fly when you are building this one!
We apologize if there was an error in this plan. Please help us out and report any errors here.