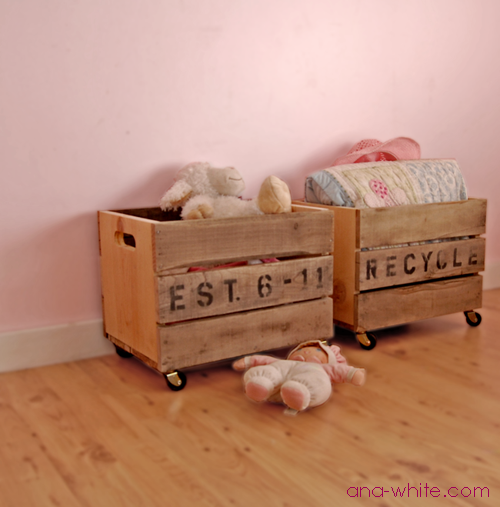 Cute pallet carts made from reclaimed wood boards.
These turned out so much better than I would have ever expected for $8 each.
Especially with a few setbacks.
You all already know that I can't spell.  Stencils really should come with spell check.  Or at least you should have to pass a test before you can purchase stencils.  Or they should sell sandpaper with stencils.  Good thing I had some sandpaper handy.
And while I was working on these carts, a bee stung me.  So now I smell like vinegar too.
At least I got our wedding date right on the first try.
These crate carts were intended for my great room, but because of the setbacks, I ended up photographing them in Grace's room (that's where all the evening sun is in my house).  And I just think they look adorable filled with kids stuff.  They will look adorable as bumper cars too, ugh, I know that's coming!
Here is a breakdown of the price per cart:
2 feet of 1x12 boards - $3
2 sets of 1 5/8" Caster Wheels - $4
Reclaimed boards from pallets
2" Wood Screws
2" Finish Nails
Wood Glue
Not bad, eh?  And did I mention that my carts are made of oak?  Yep, sanded down the pallet boards, and it's oak!
You just gotta make your own!  If you don't have a pallet to reclaim, you can use 1x6s and 1x4s, but don't expect the character to be as fabulous when you use new materials. You can watch a video on how to reclaim boards on a pallet here.
Dimensions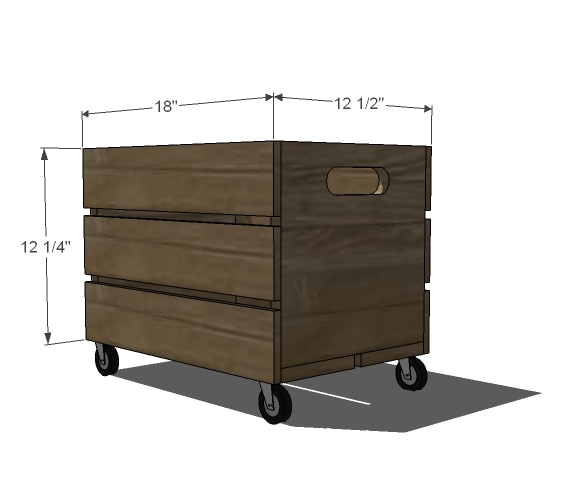 Dimensions for the cart are shown above. If you are using reclaimed boards, your dimensions could be different than those listed above.
Preparation
Cut List
2 – 1×12 @ 11 1/2″
2 – 1×6 @ 18″ (bottom, adjust width as desired)
6 – 1×4 @ 18″ (sides, adjust width as desired)

Instructions
Comments - Click to Display Comments