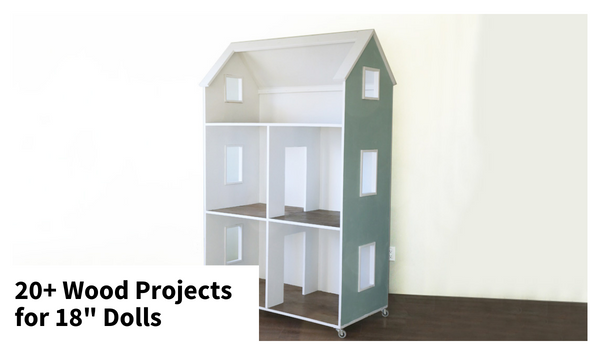 An American Girl Doll is such a sweet gift that children love and adore. They can be expensive, then you have to factor in a dollhouse and accessories. We want to help, so we have come up with 20 free plans to build your own doll house, furniture and extras to save a ton of money! These would make a fabulous gift and will work with any 18" doll, it doesn't have to be an American Girl Doll, there are other 18" dolls that allow even more $aving$!
The following plans are suitable for 18" dolls - My Life, American Girl, Gotz etc
Let's start with the Dollhouse Plans first and then what to put in them!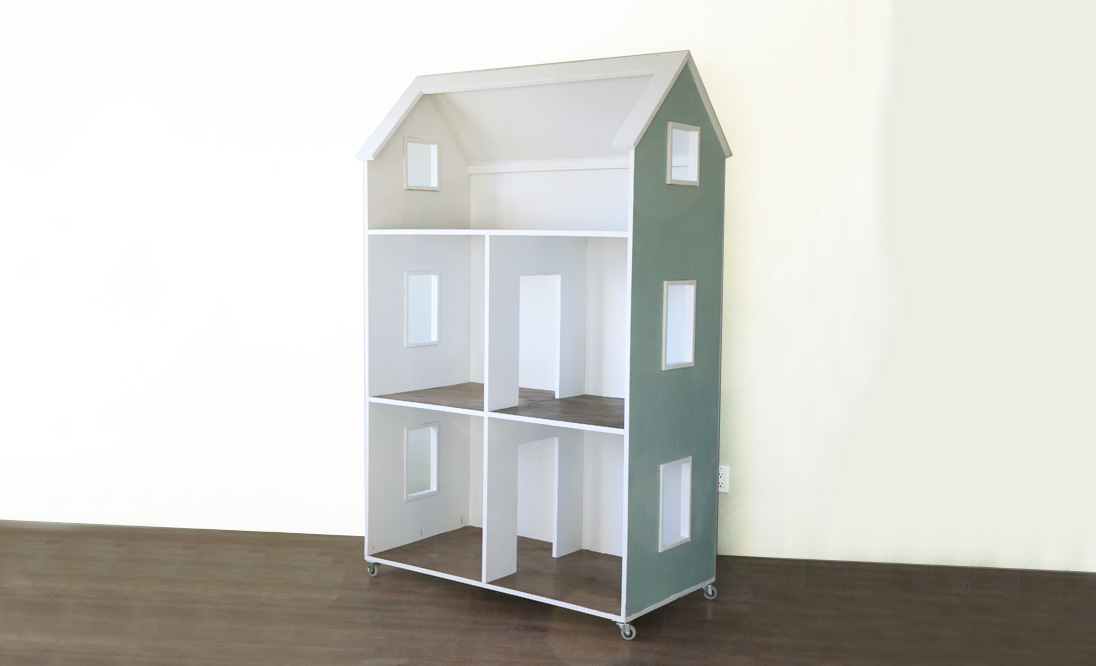 3 Story American Girl Dollhouse  - Fits 18" Dolls
This three story dollhouse is HUGE and features five large rooms. Using all plywood construction, this dollhouse will last and last! Have fun decorating and customizing each room with some handmade doll furniture, wallpaper and any fun extras you can think of! Simply add casters to move the unit around easily.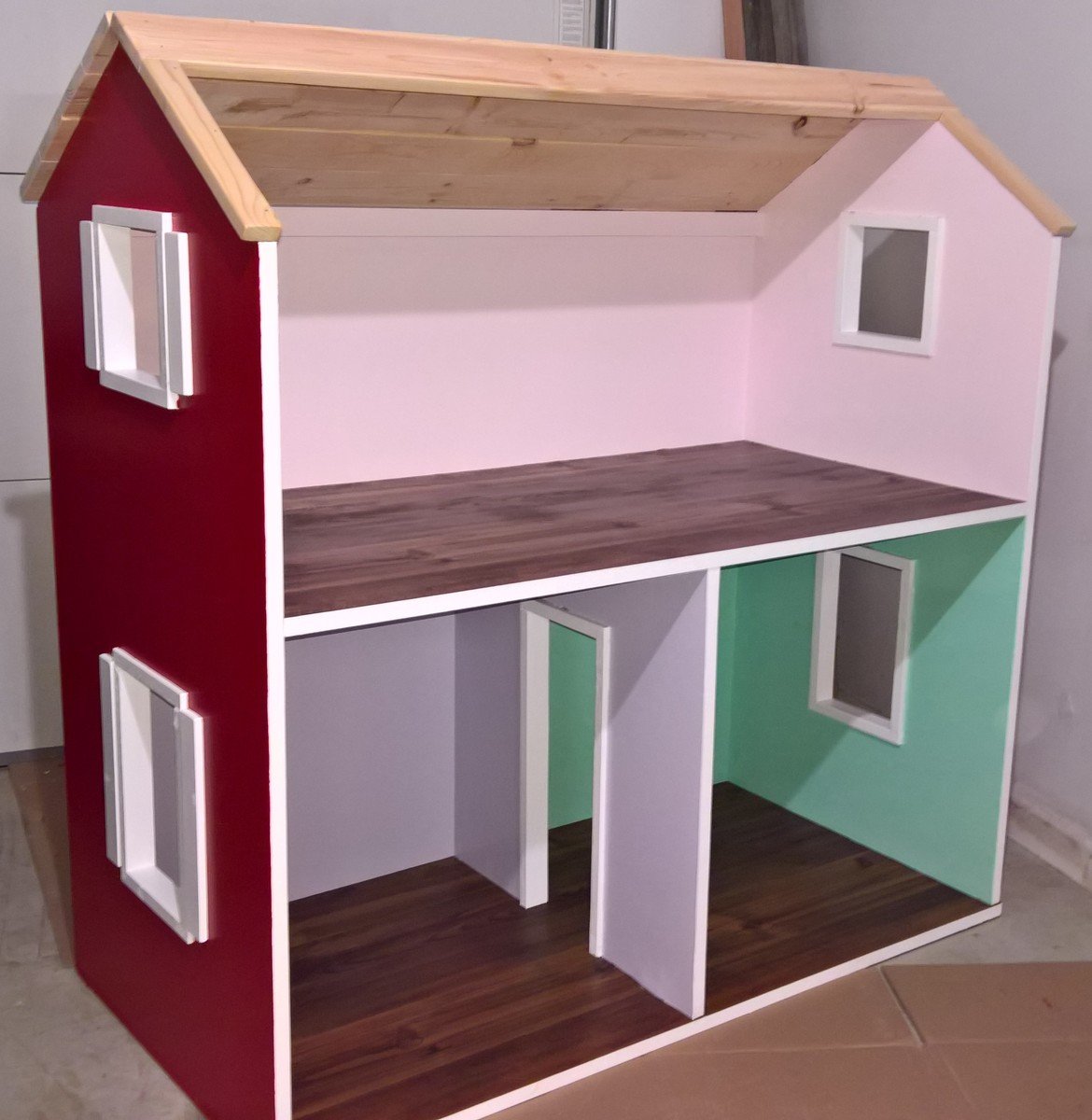 2 Story American Girl Dollhouse - For 18" Dolls
If you'd like to build a dollhouse that isn't as tall as the 3 story version, but just as sturdy and durable. We have plans for a 2 story dollhouse for smaller children, to ensure they can reach the top shelf. Built by a reader of the site.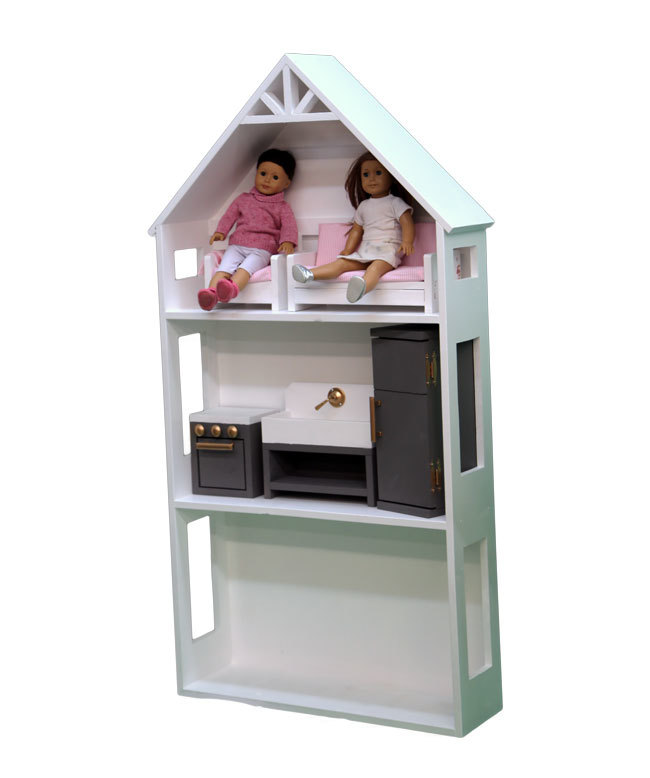 Compact American Girl Doll House for Smaller Spaces
We love American Girl dollhouses but they can be SO big.  If you have a smaller space, here's an alternative - Our compact American Girl dollhouse is about the size of a bookshelf (and you can use it as a bookshelf later!)
This is an easy to build, beginner friendly woodworking plan, using off the shelf 1x12 boards.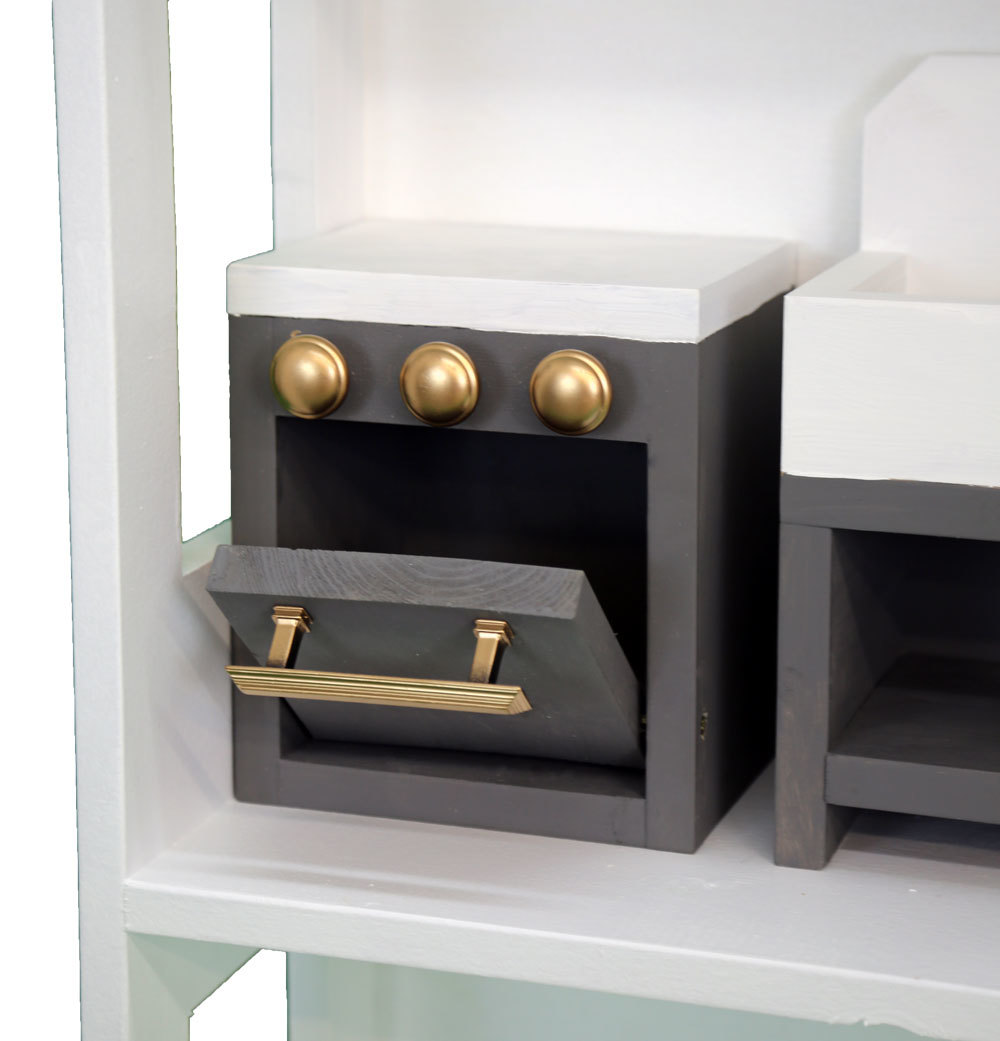 American Girl 18" Doll Kitchen Stove or Range
This darling range for 18" dolls is built of solid wood and easy to make! It includes a real working door that just pivots on screws. It's so easy to build and customize.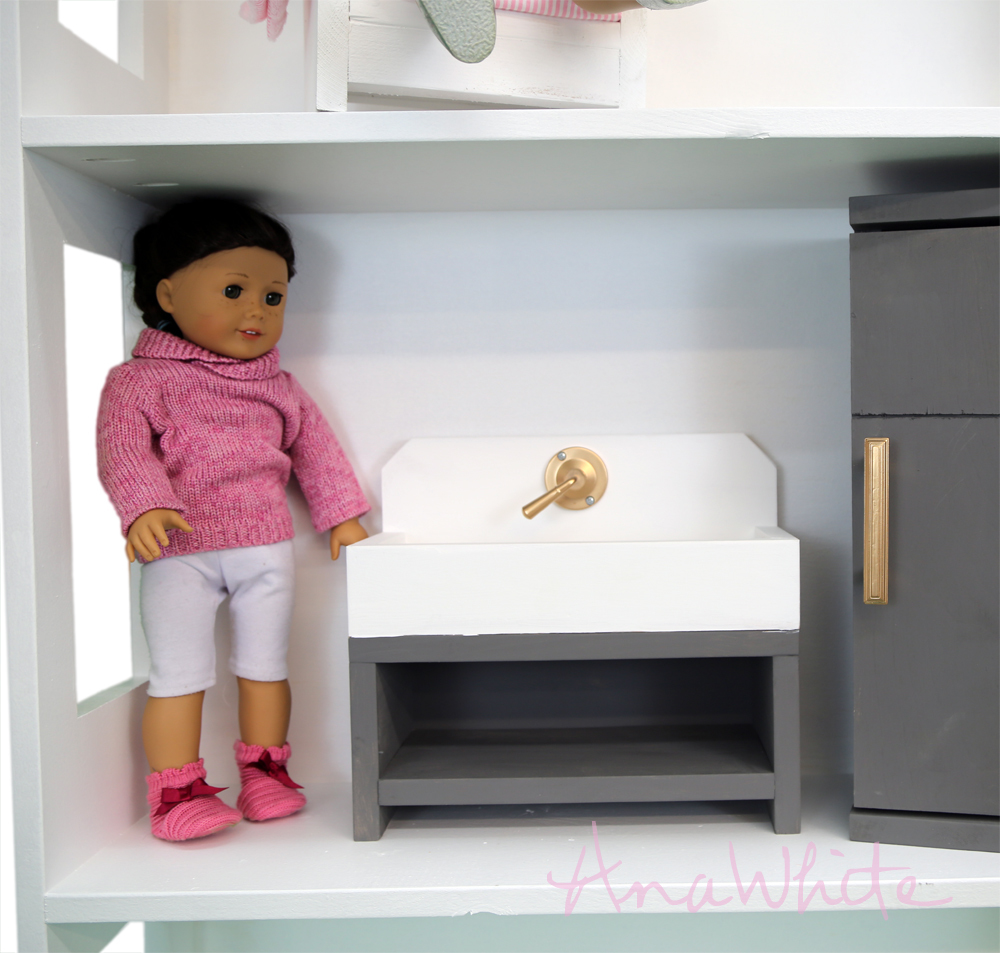 Add to the kitchen, with a darling farmhouse sink. I bet you have enough scrap boards laying around to build it for free!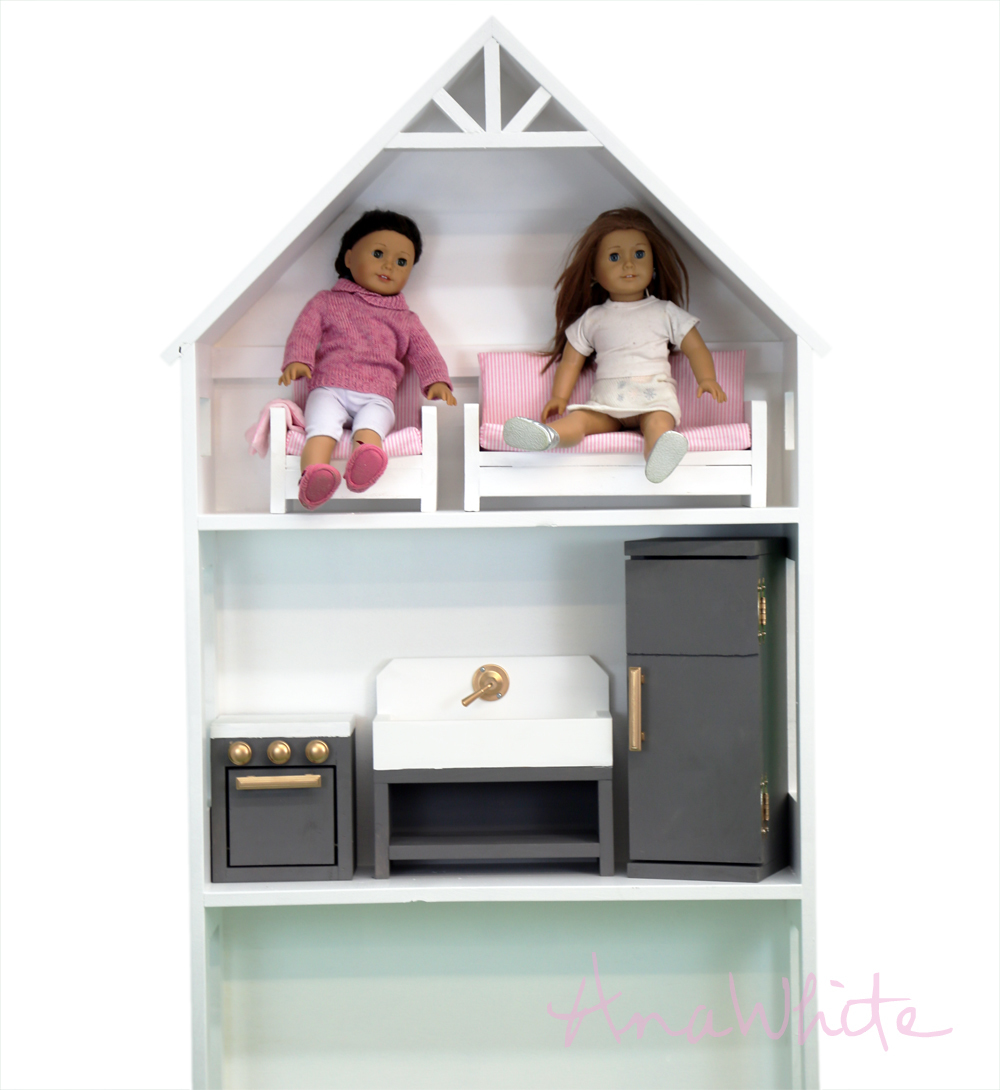 Doll Fridge for 18" Dolls 
AND finally the fridge completes the set! We love how cute and simple this fridge is!  I spray painted random hardware gold and used up scrap wood, so was able to make the entire kitchen for free!  Don't ever throw good hardware out.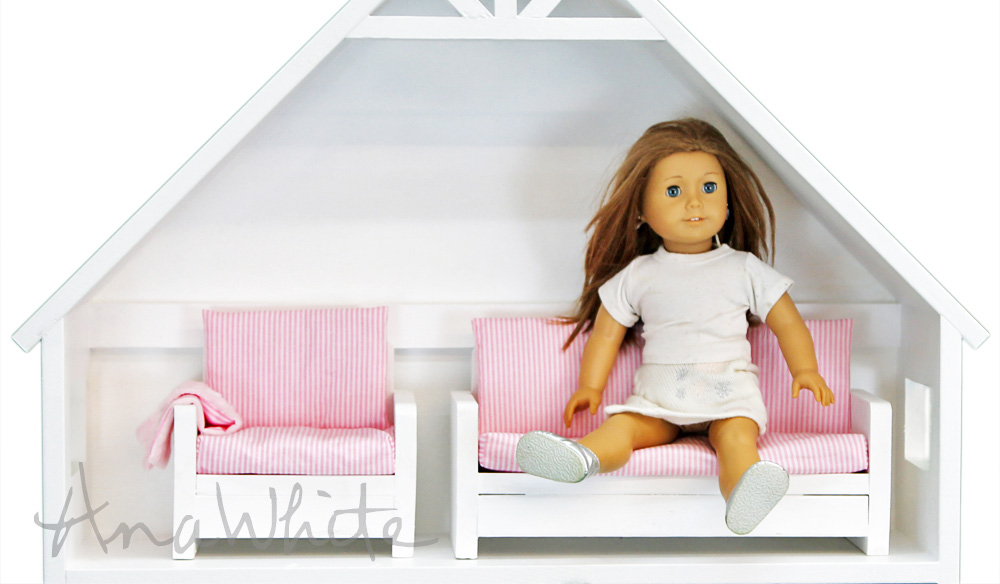 This doll sofa and doll chair are made of just 1x6 scrap boards with 1x2s underneath for support!  Seriously, so simple! This set would make a wonderful gift, especially since you could personalize by painting different colors and using different fabrics for the cushions and pillows. This plan is easy to modify for couch or loveseat sizing!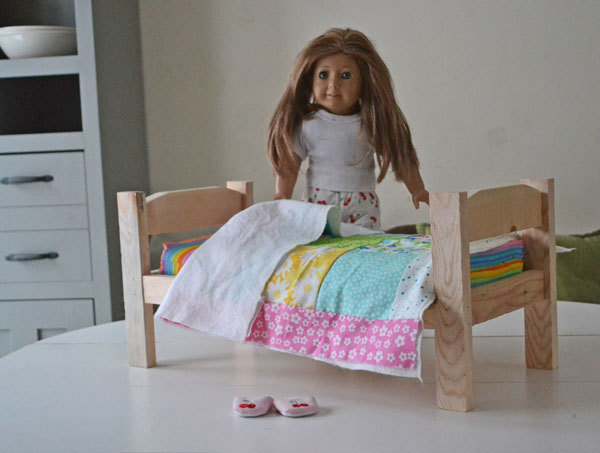 One of the first projects my daughter helped build, this super simple doll bed. Create a kit by pre-cutting the boards and then help your child assemble it! This would also make a super fun craft at a birthday party, where every guest goes home with a doll bed that they build themselves!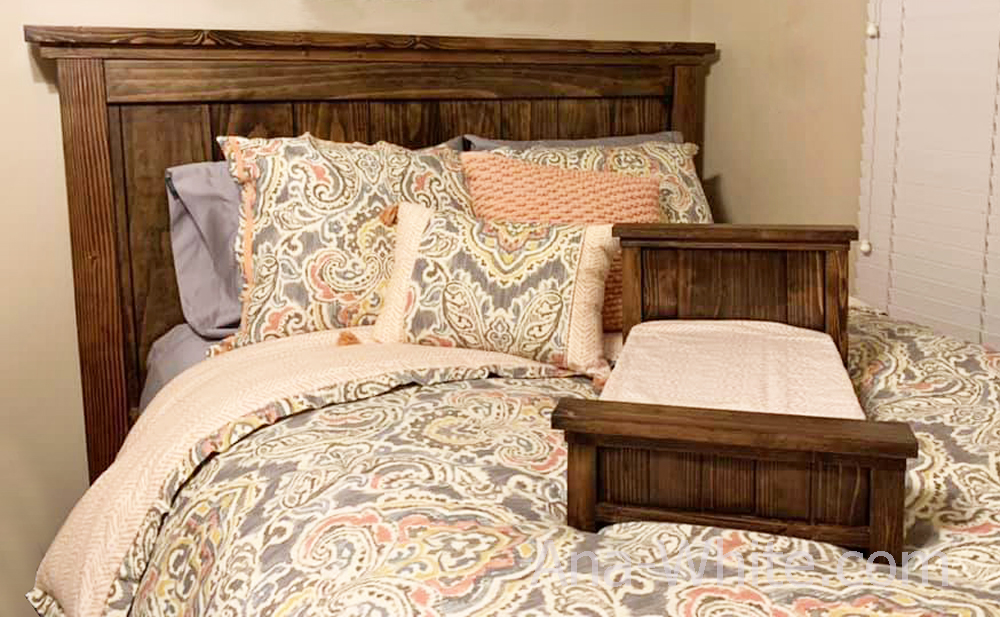 Farmhouse Doll Bed for 18" Dolls
Build your own American Girl doll bed to match our Farmhouse Beds, suitable for 18" dolls. This bed is slightly wider than traditional doll beds, to look more like our Farmhouse Bed Plan.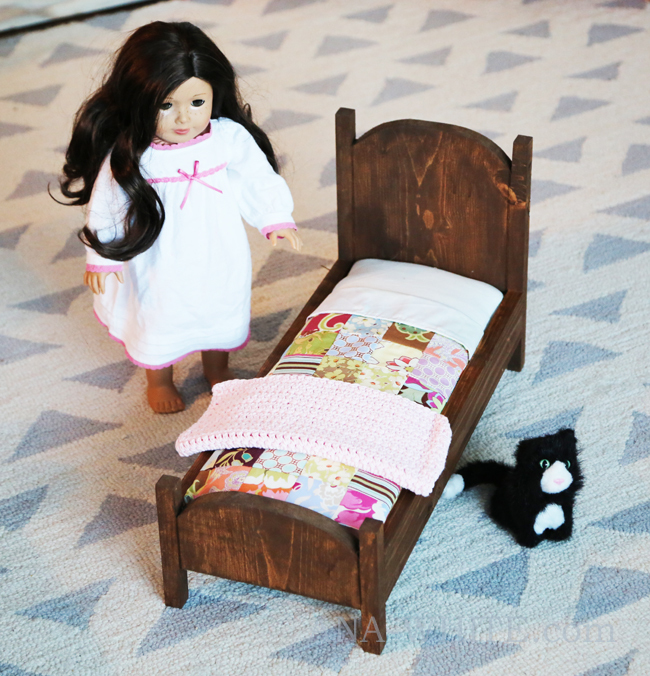 Add a darling vintage element to the set up with this sweet little bed and work on your jig saw skills at the same time!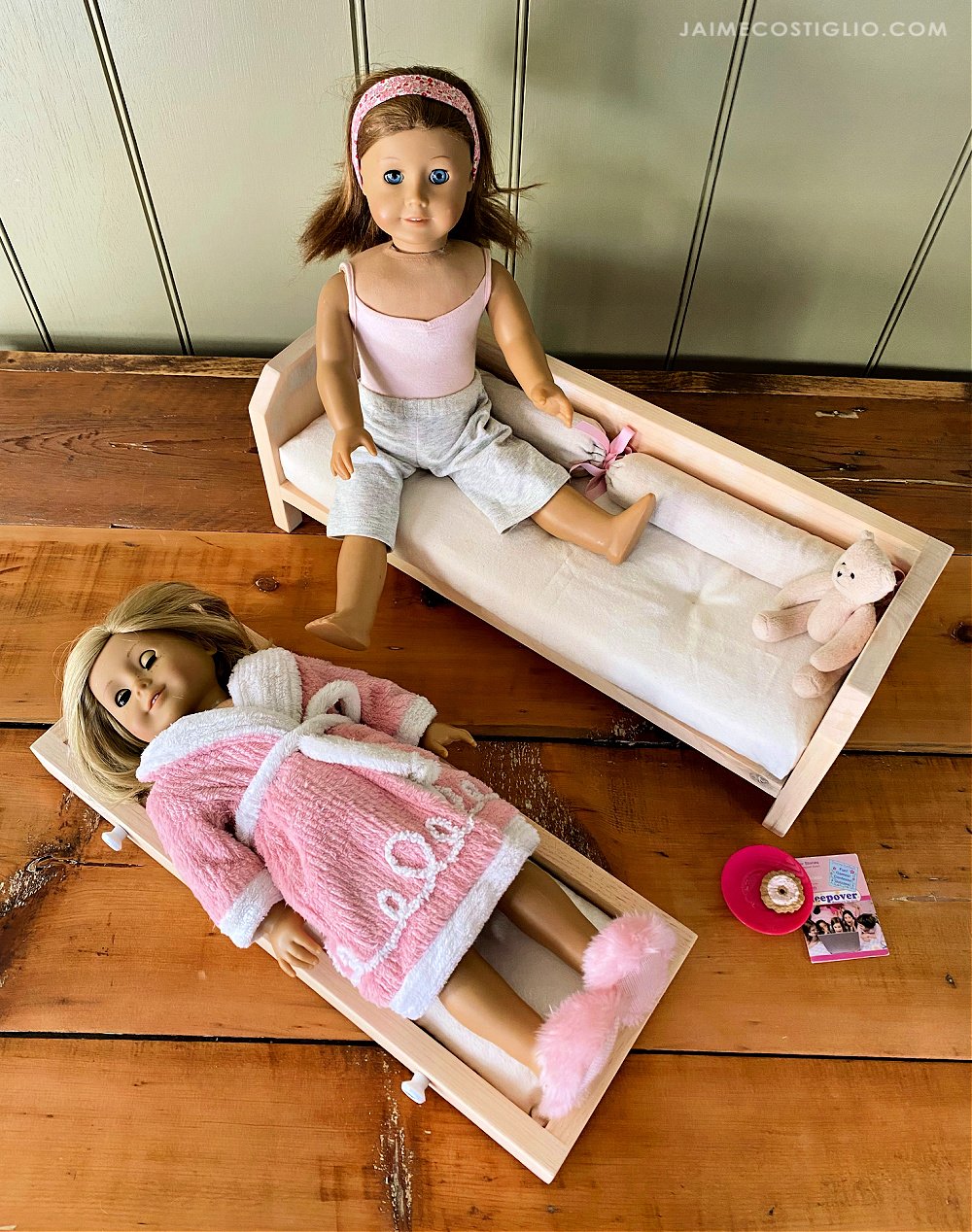 Doll Bed with Trundle
18 Inch Doll Furniture can be so expensive!  And all my toddlers have always "tested" doll furniture by sitting on or laying in ... so it has to be made well to hold up!  This is part of our Handbuilt Holiday Plan Series and we wanted to include a sturdy, simple doll daybed with a trundle, that is easy to build and would make a great gift!
Built by Jaime Costiglio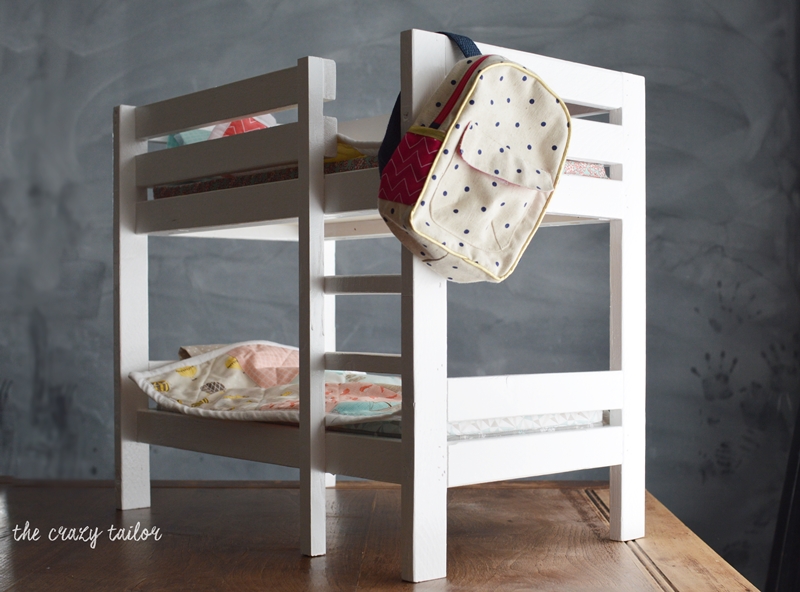 This sturdy wood doll bed is quick and easy and inexpensive to make and oh so cute! We've also seen this plan modified to add a trundle or as a loft! Built by The Doll Wardrobe.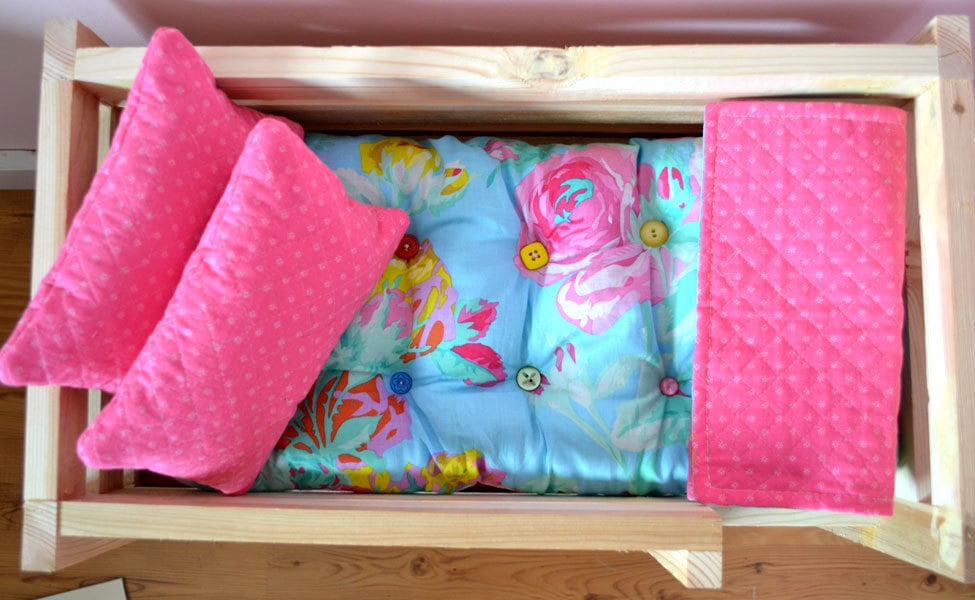 18" Doll Mattress Sewing Tutorial
Now that you built the bed... Make your own doll mattress for American girl doll furniture and beds with this simple step by step sewing tutorial designed for beginners. Sewing intimidates me, but my MIL showed me something really neat!  All you do is sew two squares of fabric together, and then you clip the corners with seams, and you've got a box cushion without all the fuss!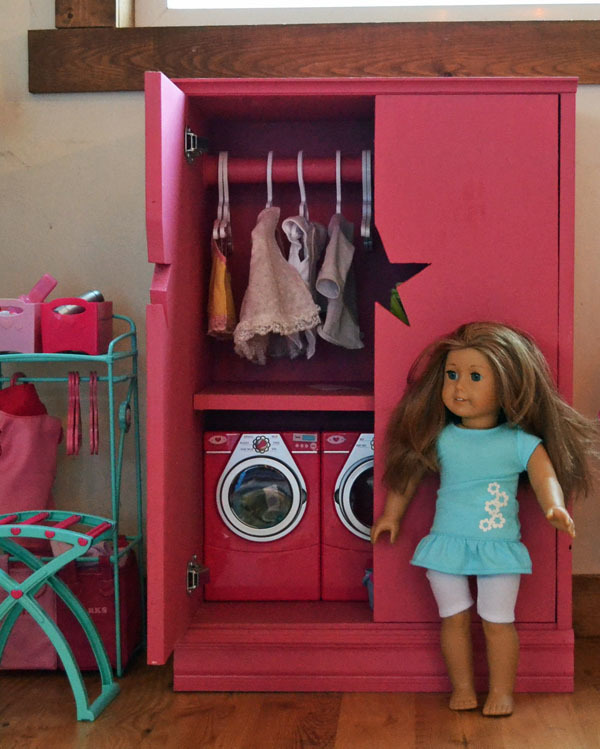 This little storage armoire is great for storing clothing and extra accessories! As an added bonus, it is sized to work as a nightstand. I just  cut a star out of the doors instead of spending more on handles or knobs and spray painted everything pink.  The shelf is adjustable, but you can make a fixed shelf. Not only is it a darling closet, it serves a purpose to keep the doll accessories and clothing more organized.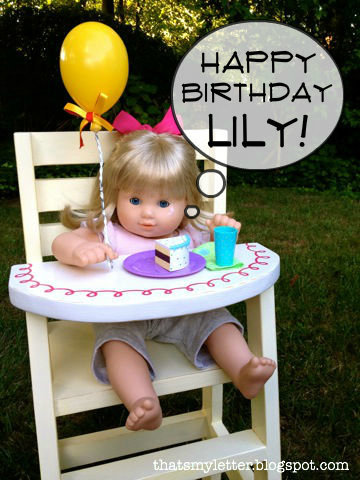 Build a doll high chair with just a few boards, we love this one by Jaime Costiglio, where she added the removeable tray!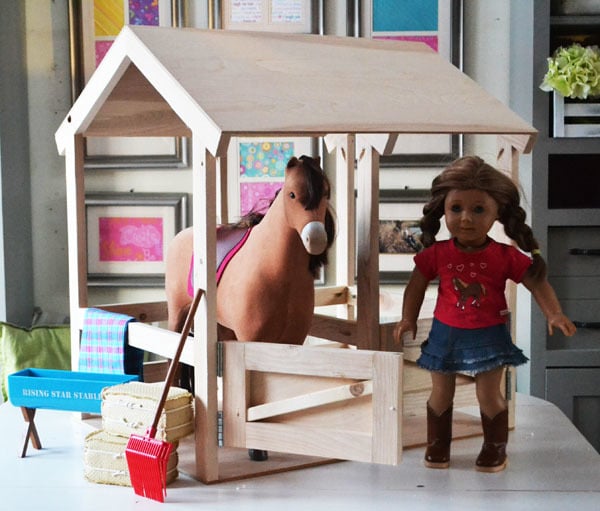 Play horses are a gift in itself, but give the kids a stable to put them in? That is the icing on the cake! The horse stable fits two horses, but you could make it longer or shorter to fit the needs of your children - one stable for small spaces, three or four for more horses. 
Then ends are open so little hands can reach in and play with the horses and clean stables. Plus the plans include real working doors!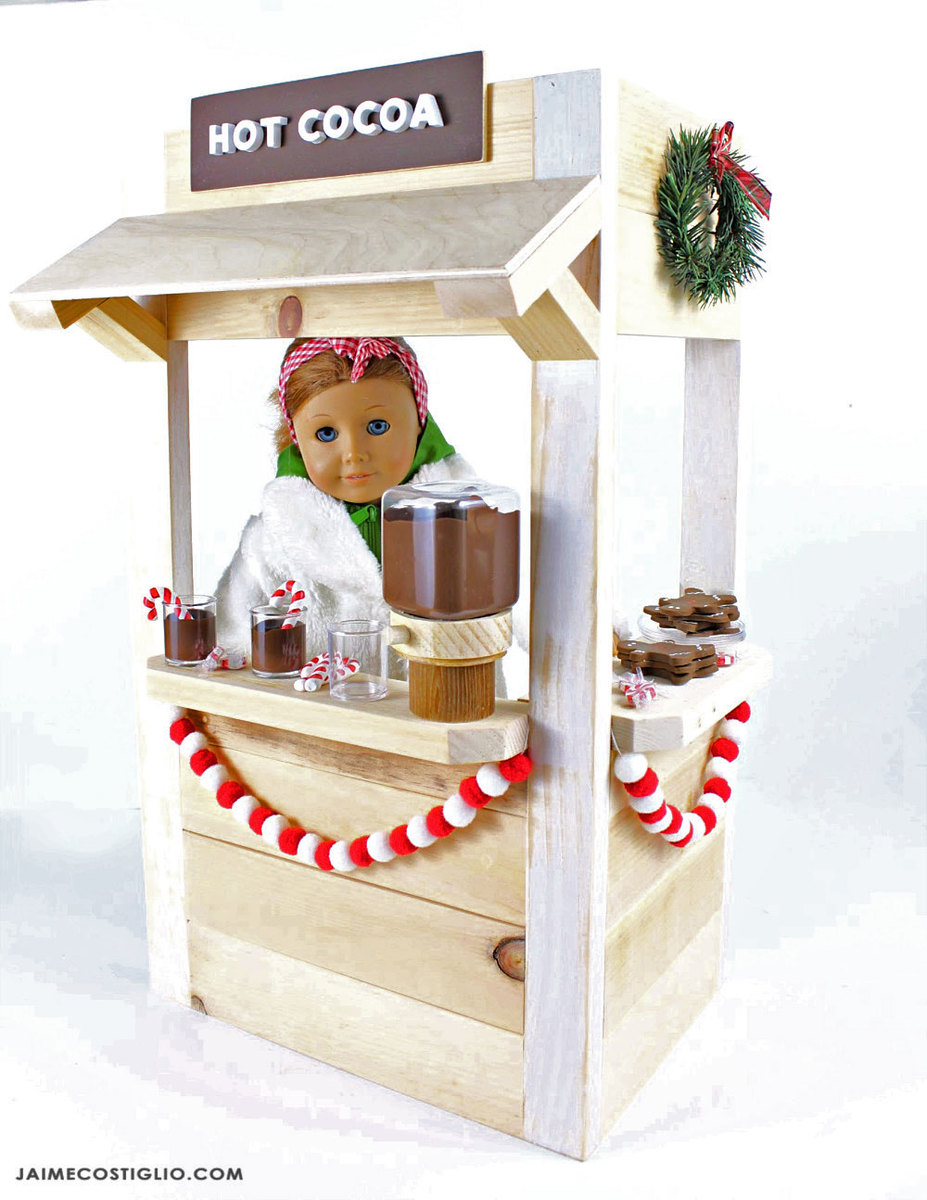 If you don't want to go the doll house route there are some super cute accessories that will make playtime just as fun, like this super cute beverage station by Jaime Costiglio!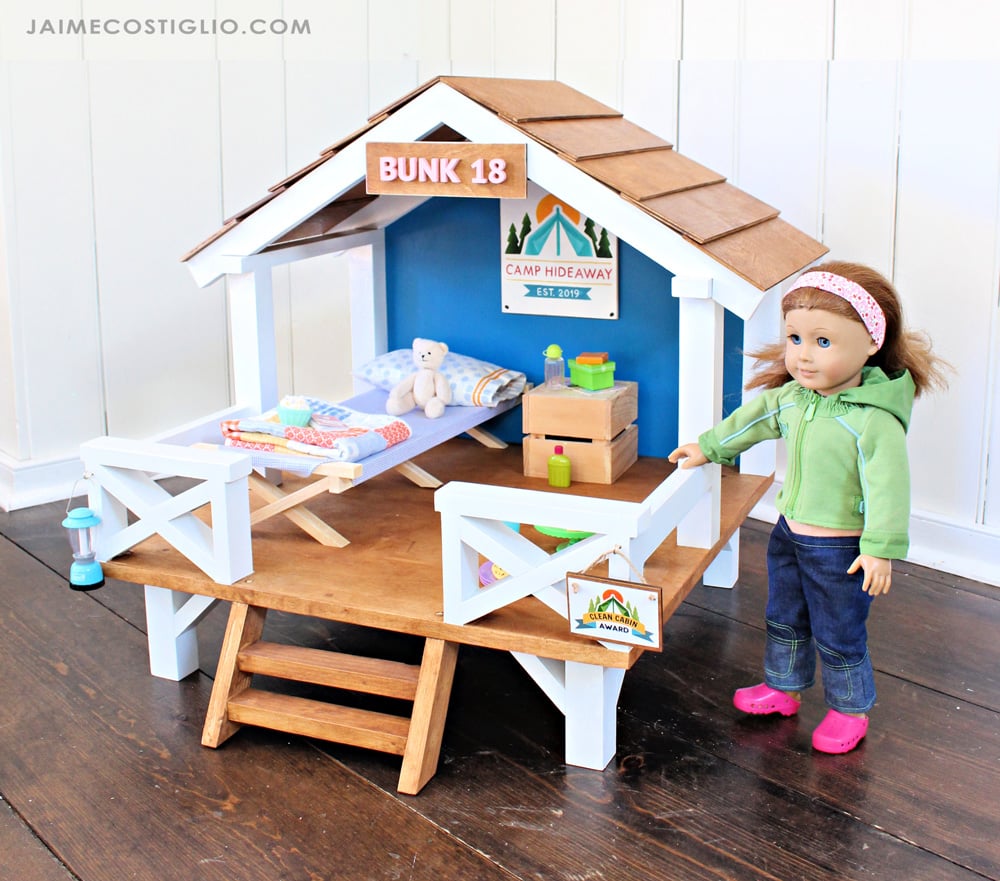 Another darling build by Jaime Costiglio. We created the free plans to build your own camp hangout for 18" or American Girl dolls.  The plan calls for standard off the shelf lumber and just a drill and brad nailer or stapler for assembly.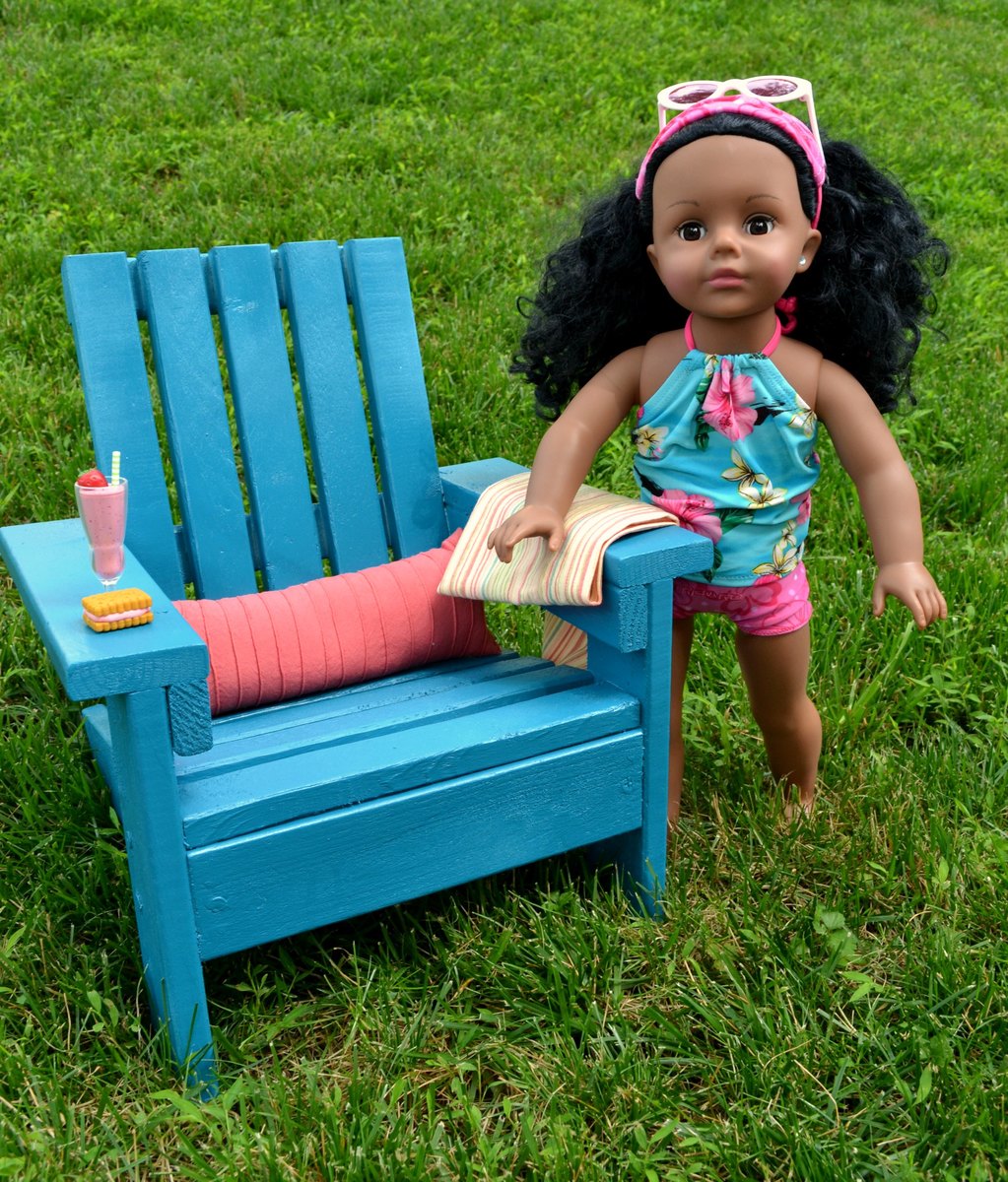 Bring the dolls outside to play and build an adirondack chair! Have fun with the finish and cute little accessories! by Doll Summer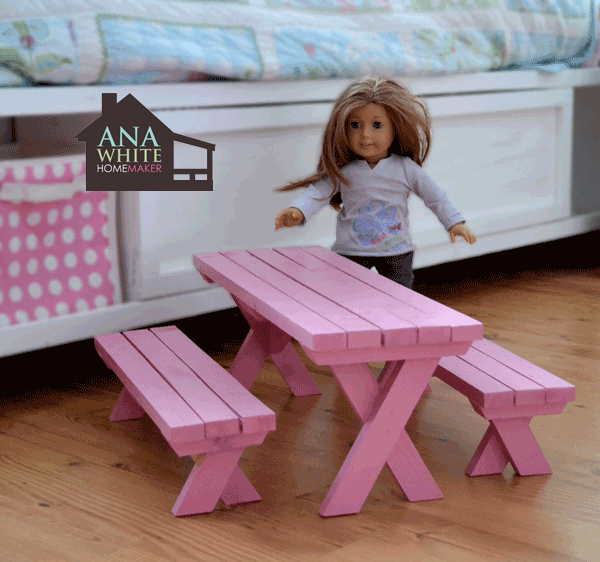 Add a picnic table to outdoor play. You only need four 1x2x 8 boards and some finish nails! Paint or stain it a fun bright color and change it up easily when it needs an update.
Folding Doll Closet for 18" Dolls
Beautiful folding doll bedroom stores a bed, clothes, accessories and a 18 inch doll inside.  Opens up on hinges to create a play bedroom. Stores away neatly when done! By Jaime Costiglio.