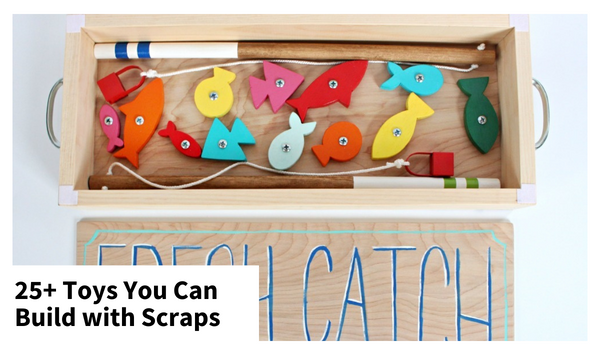 Giving handmade gifts can be very special and can be accomplished with imited time and materials. Here are over 25 free plans to start creating the perfect gift for the kids in your life!
Built by Jaime Costiglio
Time to go fishing in your scrap wood pile and make this project! 
As a mom, I can really appreciate a toy like this - it's educational and beautiful, and comes with a storage box to neatly put it away when not in use.  That is, of course, if you don't want to keep this beautiful project on display.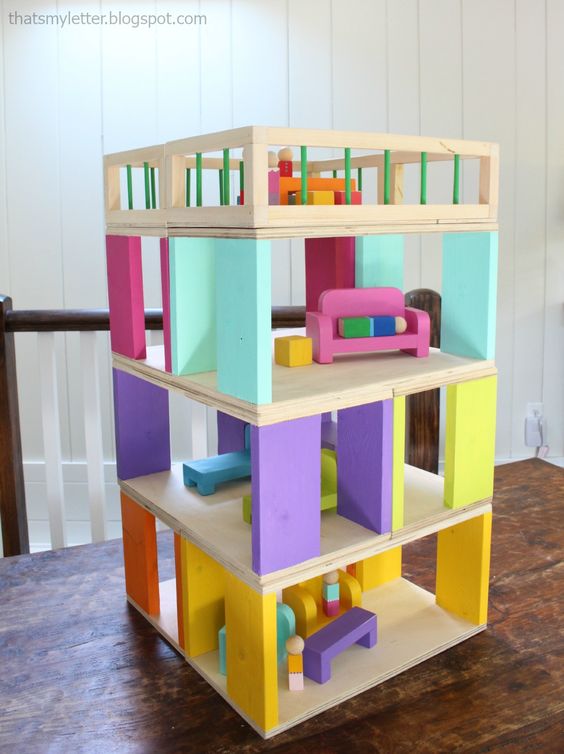 Built by Jaime Costiglio
Grab some scraps and some paint and start creating a one of a kind modular dollhouse, right down to the furniture! Have fun with this one.
Built and Shared by Jaime Costiglio
Lipstick, perfume, nail polish out of scrap wood?  Of course!
Built by Jaime Costiglio
We wanted to create plans for unique gifts for children. My guess is not too many kids already have a toy bunny hutch.  But what child wouldn't love to play with this set?  We've sized it to be compatible with 18" or American Girl Dolls, but this little set can be played with all by itself too.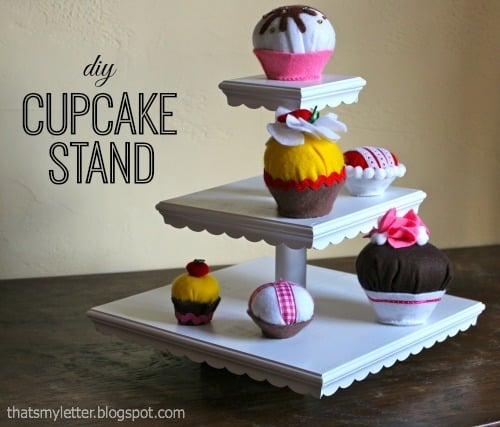 Built by Jaime Costiglio
The intention of this project was to create a toy plan that your little tea party hostesses would love to have under the tree ... Jaime also has you covered with how to make those adorable felt cupcakes!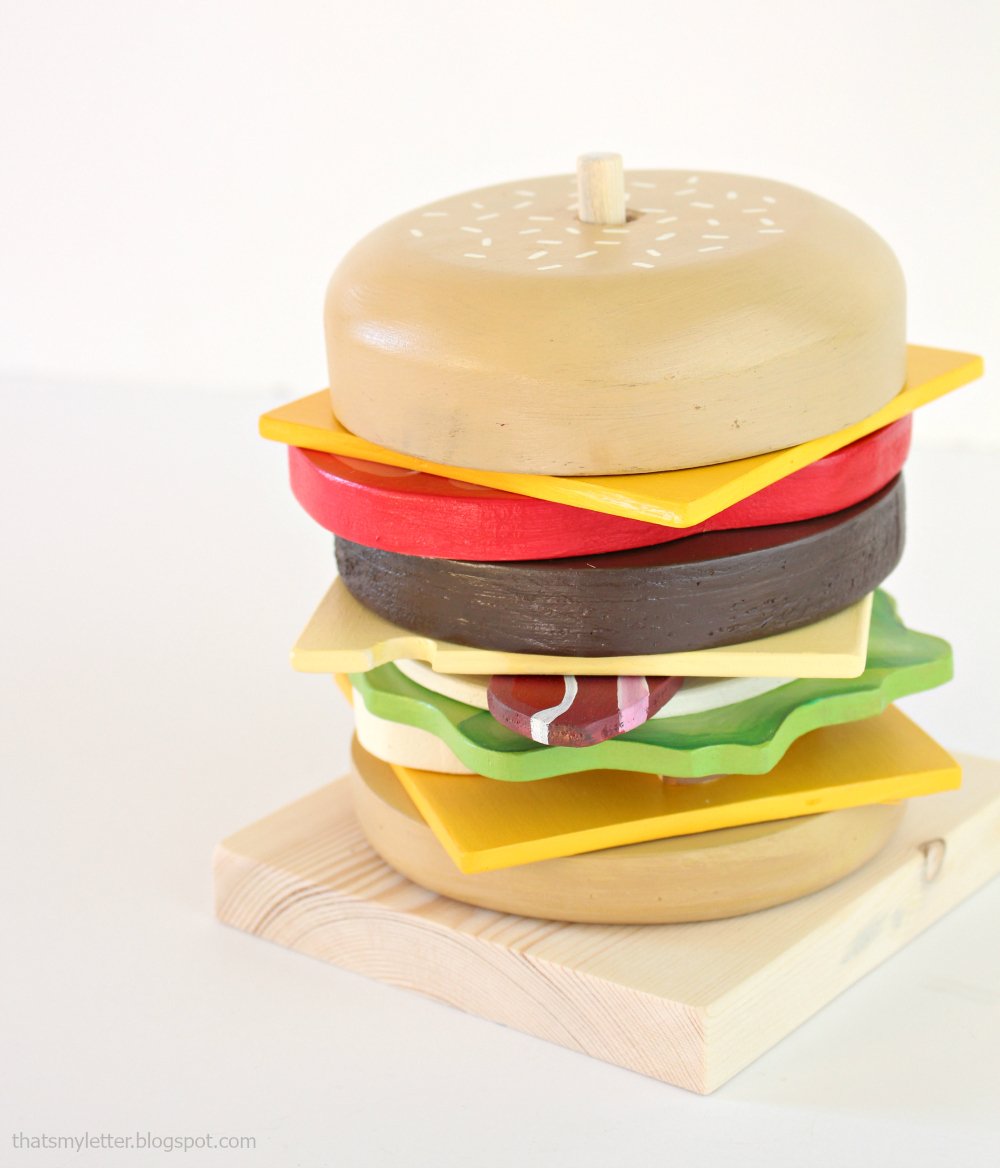 Built by Jaime Costiglio
I love that this stacking rings hamburger toy is all scrap wood pieces.  I love that you can get as creative as you like with it too! That's right - you can make this lovely, solid wood stacking rings hamburger toy for free!  
Built by Jaime Costiglio
Cake pops are a thing because they are so fun and cute and yummy!  But you do need a stand to serve them and decorate them.  So why not make one yourself out of wood? This would be a fun an unique party craft for kids to make their own!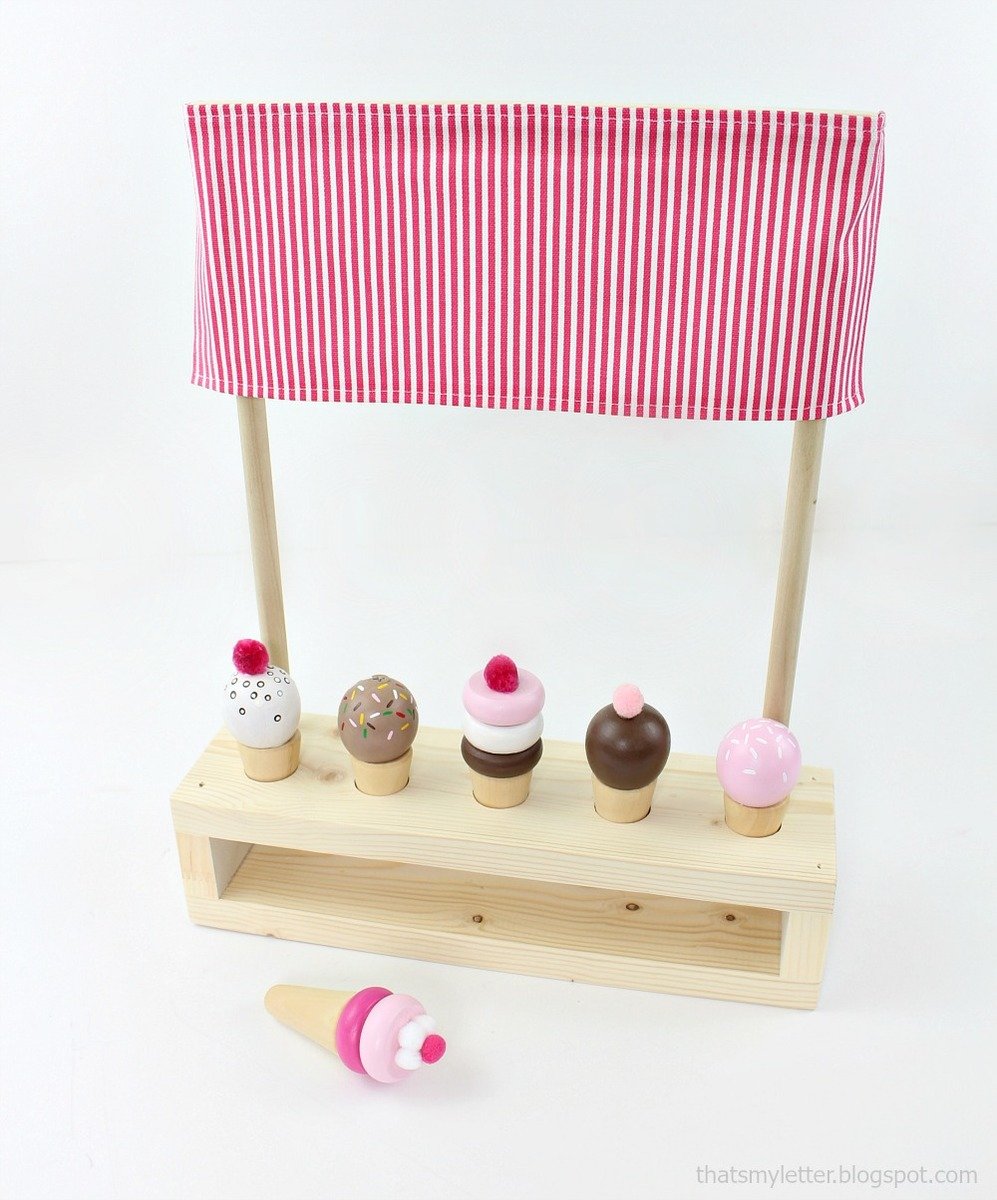 Built by Jaime Costiglio
Perfect for the tabletop and pretend play! I bet your little kid would be the only one on the block with this cuteness! This little ice cream parlour is easy to make, and I bet you have the scrap wood around to put it together in no time.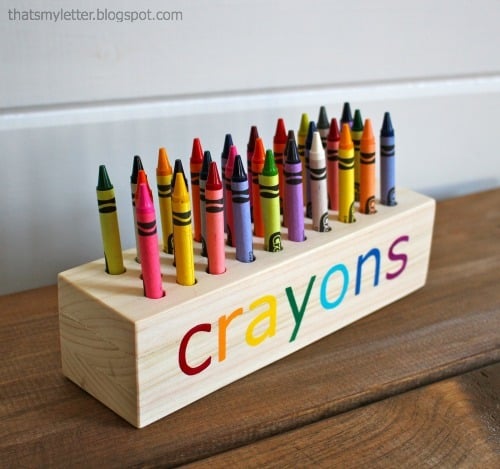 Built by Jaime Costiglio
Perfect for little hands, this scrap wood project will be fun to customize by adding a name too!
Simple Modern Dollhouse
A perfect project to use up some scrap plywood! This doll house is a blank slate to encourage creative play.  Instead of following out the set things a store-bought playset does, let their imaginations bloom.
Built by Jaime Costiglio
These wheelie cars are just cut out (free templates below) from 1x4 wood scraps (a 1x4 new board can be purchased for about $5 for eight feet if you don't have scraps.
The wheels are also made from scraps, but if that's more woodworking than you want to take on, you can buy the wheels for cheap!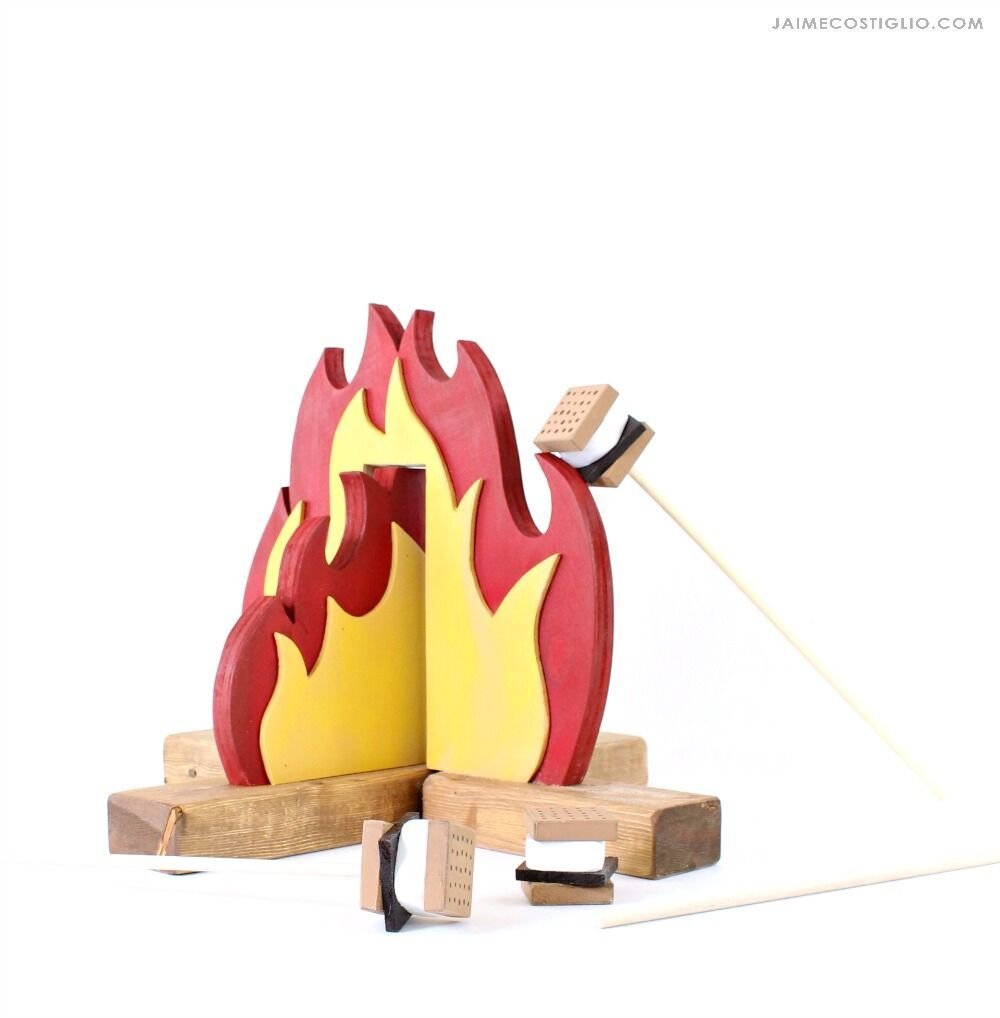 Built by Jaime Costiglio
Are you looking for a unique children's gift that creates hours of imaginative play?  Bring the camping spirit indoors with this DIY Campfire play set!  You can build it out of scrap wood - you'll just need a some 2x3 boards, and some 3/4" and 1/4" plywood pieces.
Built by 1Thing1Week
Grab some scraps and have fun with this plane shelf! Paint or stain to match a bedroom decor, add lights for more fun.
Built by Jaime Costiglio
This truck shelf or organizer can be hung on the wall or set on a desktop, on top of a bookshelf, or even on the floor.  It's a good size, 1x6 depth for the books.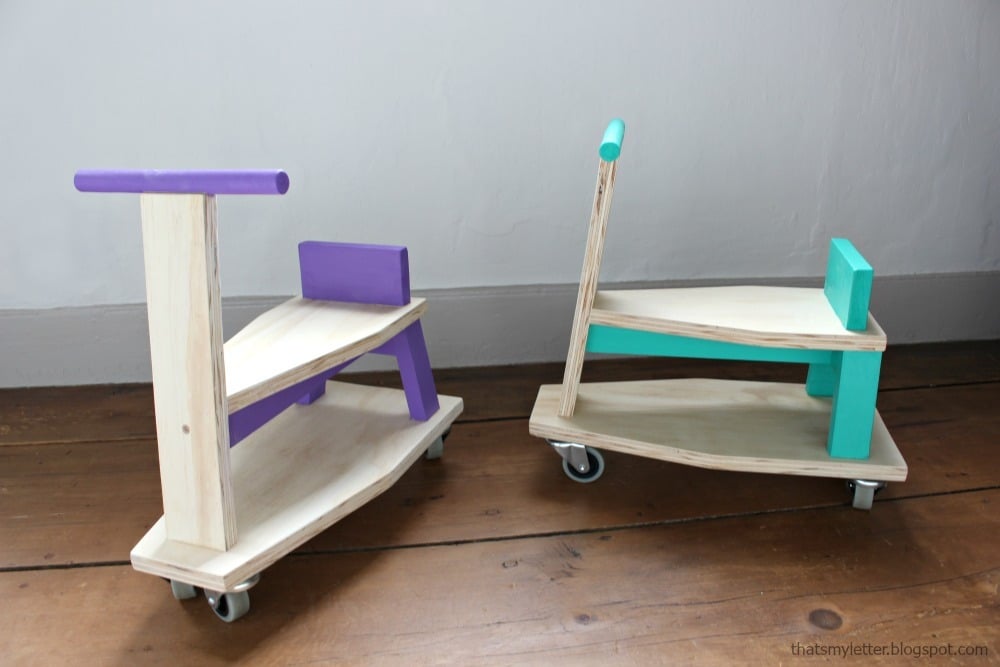 Built by Jaime Costiglio
Make a scrap wood scooter toddlers ride on toys that is durable and adorable.  Have fun customizing the finishing touches!
Looks like a retro tv but holds your ipad!  Easy to build from scrap wood. 
Built by Jaime Costiglio
Perfect for kids who love baby dolls, and free if you can pull together some scrap wood!
Built by Wellys
You may need more than a few scraps to build this crib, but we wanted to include it because once you build the stroller, you may want to include a crib! Also, you may be able to get away with buying one board and using up scraps for the rest, get creative!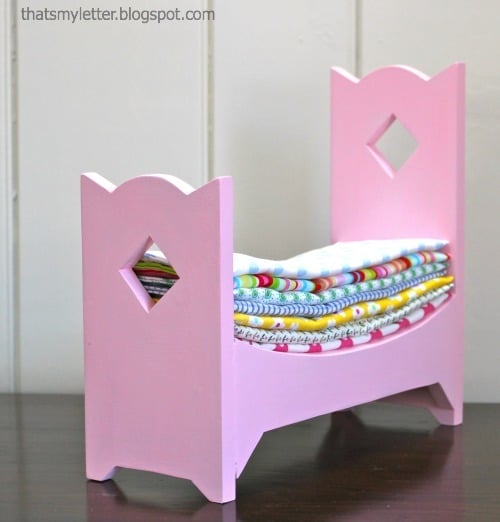 Built by Jaime Costiglio
You'll have to go check out Jaime's post for the doll and the princess and the pea book to complete this adorable princess and the pea bed plan!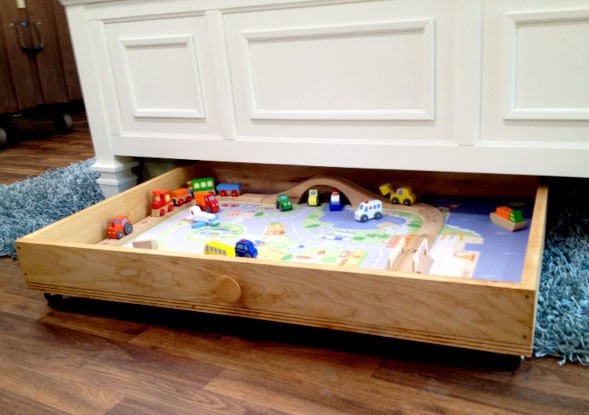 Don't get stuck on "train trundle". This simple idea could work for lego mats, cars, lincoln logs, barbies, you name it! Super easy to modify size for siding under the bed when play time is over, doubles as storage, now that's a win win.
This easel is such a quick and easy project for little budding artists or kids who like to play teacher!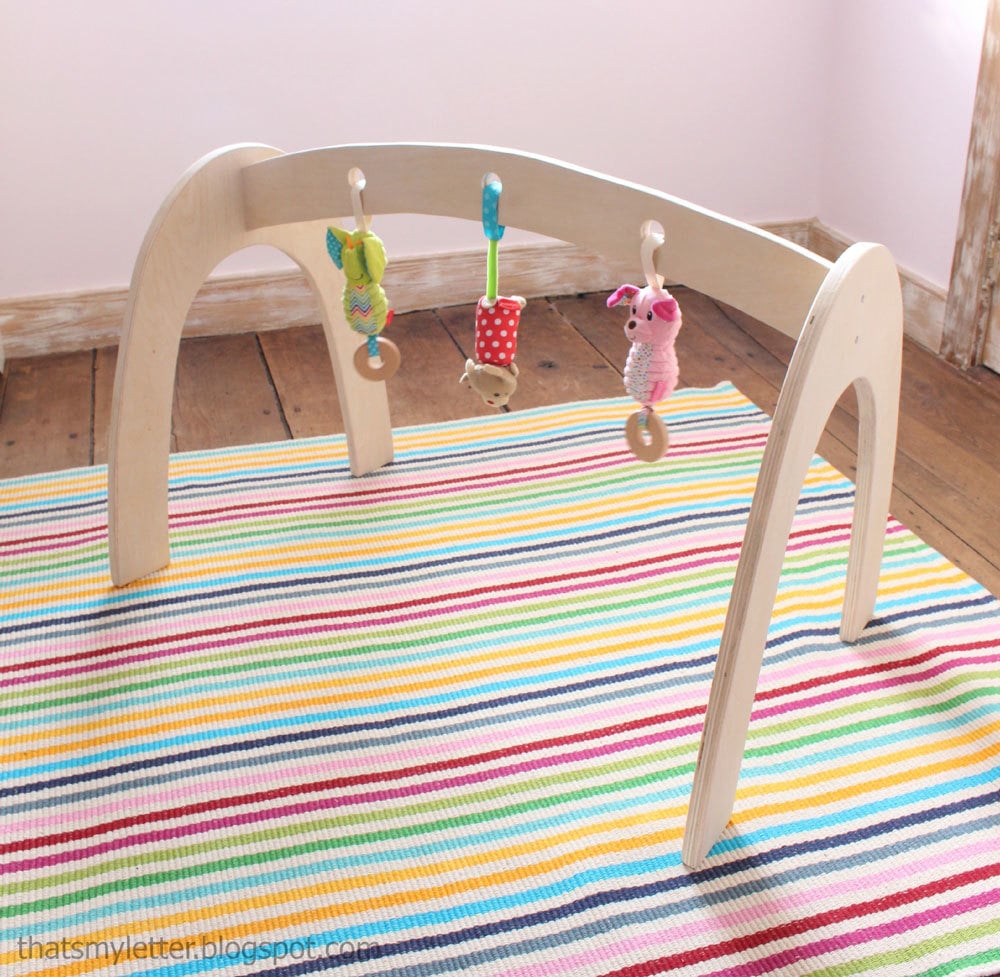 Built by Jaime Costiglio
Could it be???  A baby gym beautiful enough for your living room??? YES!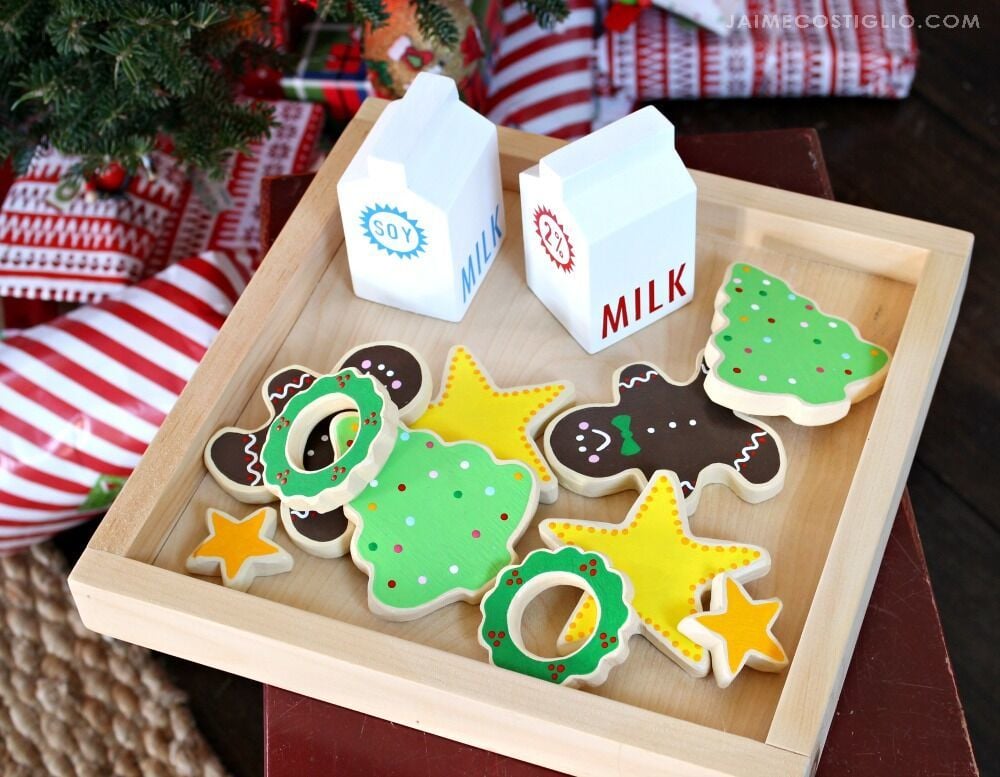 Built by Jaime Costiglio
Use up some scrap wood for this simple litte gift! We love that it is a no-calorie option for under the tree on Christmas Eve.  And we love that this little milk and cookies playset can be used year round.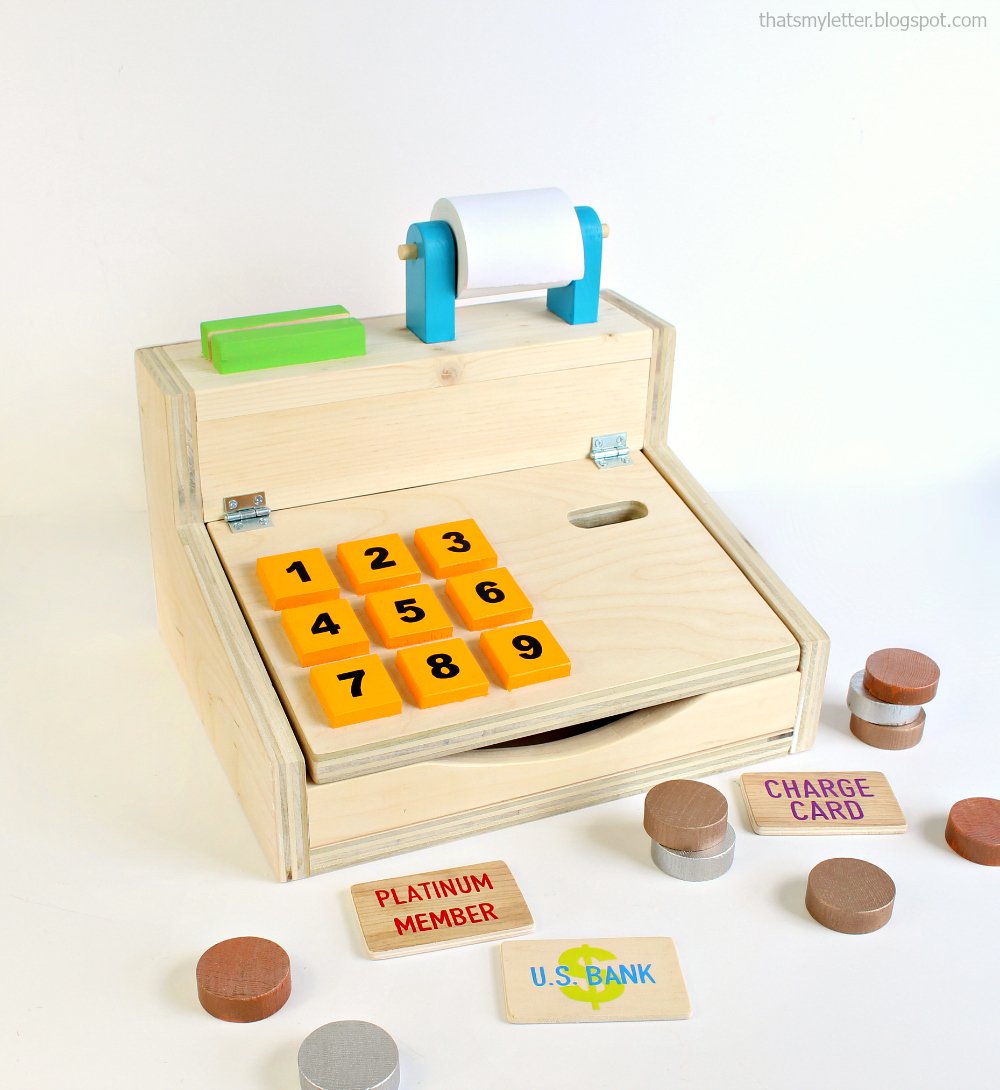 Built by Jaime Costiglio
And we've designed the entire project to be scrap wood pile friendly.  Jaime used 3/4" plywood for her project, but the plans are sized for standard width 1x boards for those of you without a table saw.  And let's not forget the coins and credit cards and cash ... scrap plywood and dowel pieces of course!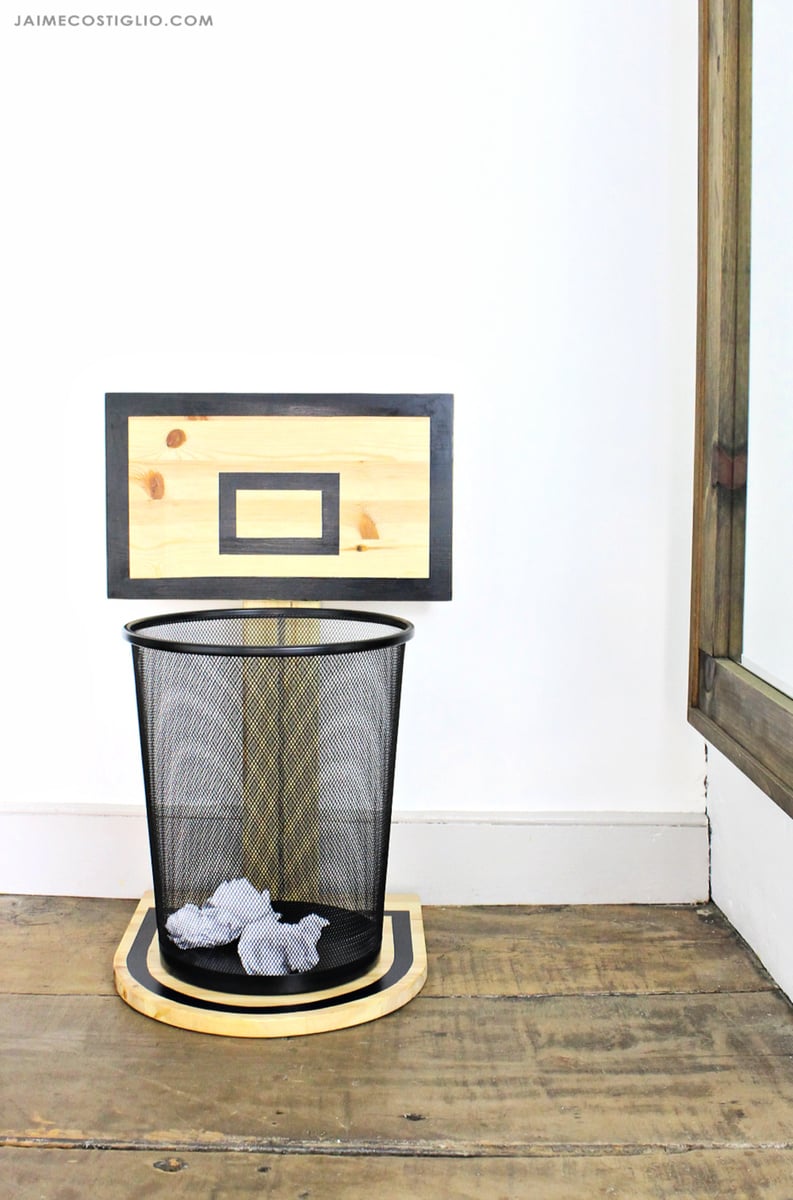 Built by Jaime Costiglio
This basketball hoop wastebasket might just be a slam dunk!  It's just a few boards - scraps you probably have on hand, so won't cost a much - but unique and fun and useful!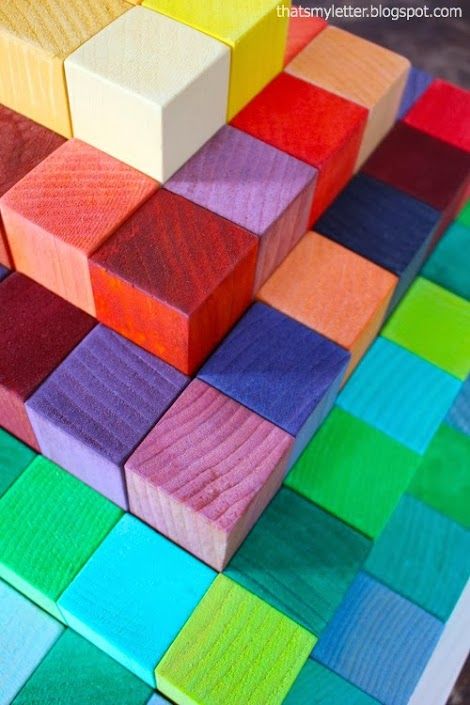 Built by Jaime Costiglio
DIY eco wood blocks! Dyed with food coloring!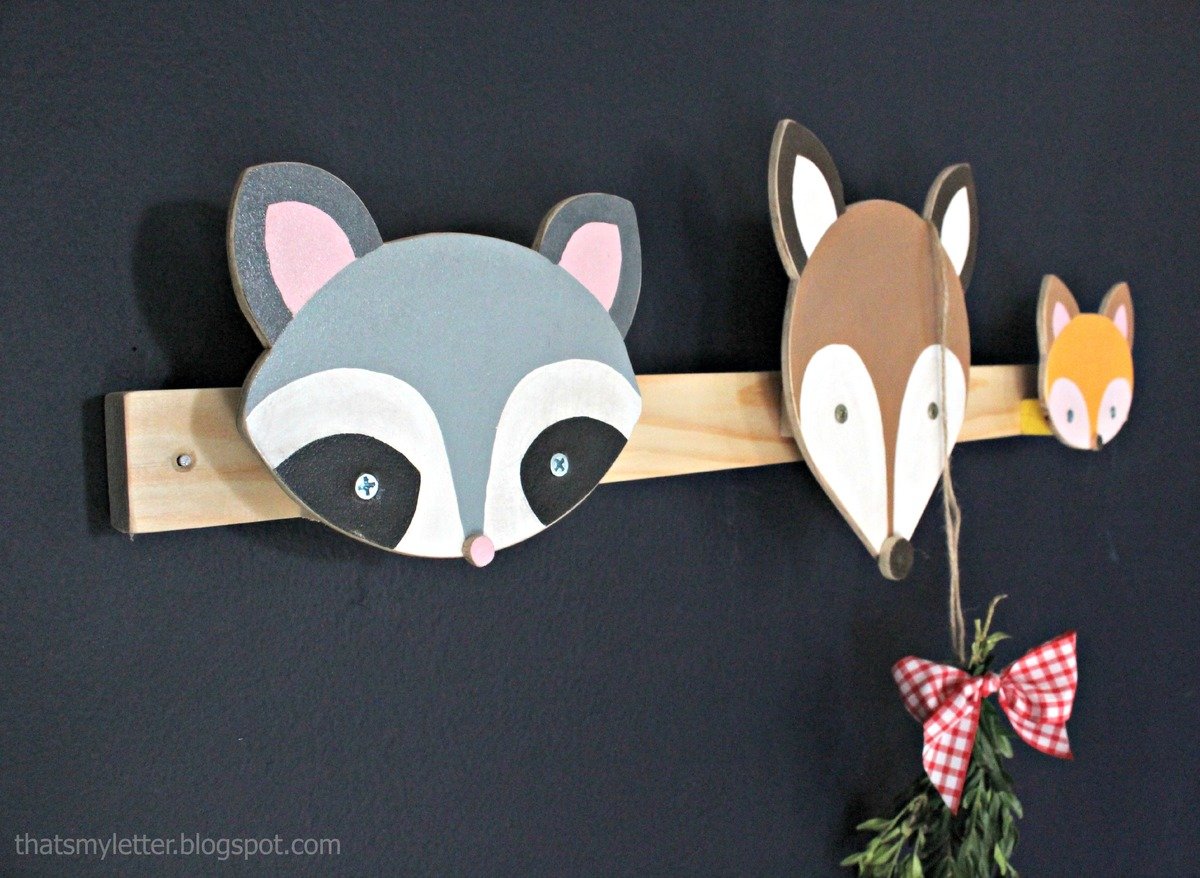 Built by Jaime Costiglio
DIY woodland animal hooks - deer, raccoon and fox. They are so adorable, you may just have a hard time hanging stuff on them!!!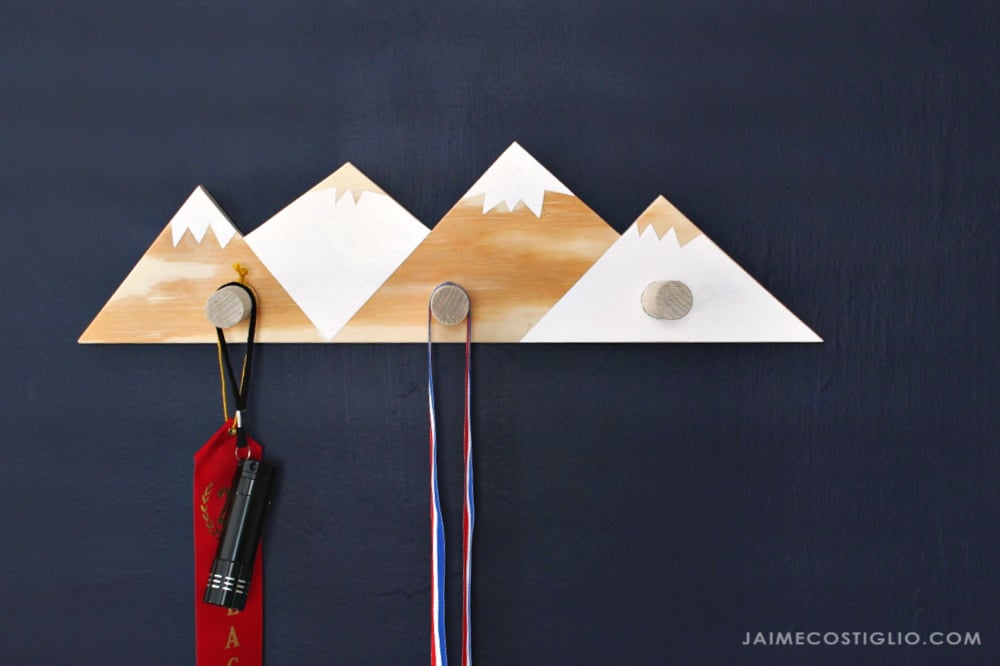 Built by Jaime Costiglio
Add a rustic and functional touch to a room with these mountain range wall pegs!  All you'll need is a small piece of scrap wood and dowels or hooks to create this easy DIY project!
BE SURE TO CHECK OUT ALL OF MINE AND JAIME'S HANDBUILT HOLIDAY PROJECTS FOR EVEN MORE GIFT IDEAS!
Pin For Later!