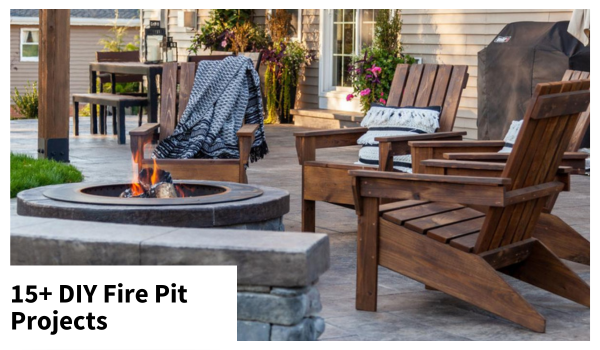 Photo credit Hamilton Park Home
Fall is fire pit season!  Are you ready?  
If you have a firepit with good seating, hosting campfire is quick and easy.  Make it even more extravagant with accessories and tables!
Here's why we love DIY firepit spaces:
Save Money: Building your own firepit and seating can be more cost-effective than purchasing pre-made options or hiring a professional to install them. You have control over materials and can choose budget-friendly options.
Customize Your Space: DIY firepit projects allow you to tailor the design to your specific preferences and the size of your outdoor space. You can create a unique and personalized look that complements your home and style.
Get Creative!: Designing and building your own firepit and seating can be a creative and satisfying DIY project. You can experiment with different materials, shapes, and styles to achieve the desired aesthetic.
Sustainability: You can choose sustainable and eco-friendly materials for your DIY project, reducing the environmental impact of your outdoor space. For example, using reclaimed wood or repurposed materials can be environmentally responsible.
Exact Fit: When you build your own firepit and seating, you can ensure they fit perfectly in your space, maximizing its usability and comfort.
Quality Control: By personally overseeing the construction, you can ensure the quality and durability of your firepit and seating. You can use high-quality materials and craftsmanship to make them last for years.
Unique Accessories: Building your own accessories, such as custom-built tables, storage solutions, or decorative elements, allows you to create a cohesive and unique outdoor environment.
Entertainment Value: DIY projects can be enjoyable activities for family and friends to participate in together. It's an opportunity to bond while working on a common goal.
To support your DIY firepit and seating project, consider accessories like comfortable cushions, weather-resistant covers, firewood storage solutions, lighting fixtures, and fire safety equipment. These accessories enhance the functionality and comfort of your outdoor space while ensuring safety and convenience during firepit use.