Our favorite kids picnic table! Designed to fit bigger kids, this super sturdy picnic table is big enough to sit a small adult too! Super easy to build design has been built hundreds of times already! Build photo submitted by Fethiye
Dimensions
Dimensions are shown for kids picnic table plans
Preparation
Shopping List
2 – 2×6 Boards, 8′ Long
6 – 2×4 Boards, 8′ Long
2 1/2″ Screws or Bolts (bolts will need to be at least 3″ long and you will need washers and nuts)
Cut List
4 – 2×6 @ 48″ (Tabletop)
2 – 2×4 @ 23 1/2″ (Tabletop Supports)
4 – 2×4 @ 26″ (Legs, DO NOT CUT UNTIL REVIEWING THE ANGLES)
2 – 2×4 @ 40 1/2″ (Seat Supports)
1 – 2×4 @ 37″ (Bottom Support)
4 – 2×4 @ 48″ (Seat Boards)
General Instructions
Work on a clean level surface. Take a square of your project after each step. Predrill and countersink your screw holes. Use proper safety precautions and equipment.
Instructions
Step 1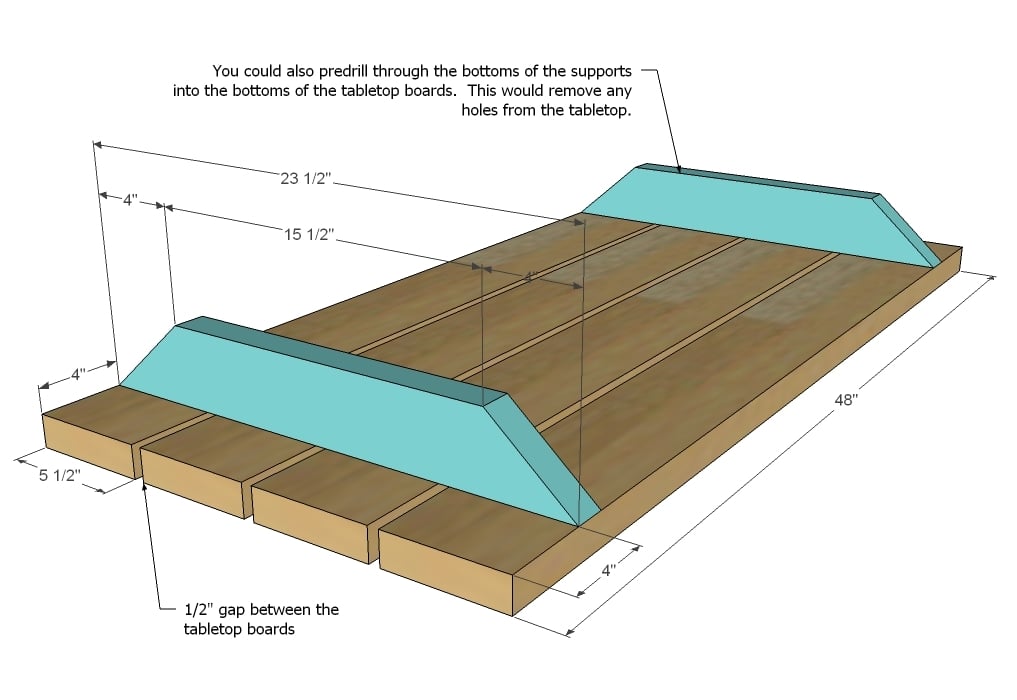 Tabletop. Begin by cutting your tabletop supports (shown above in blue) as shown above. You can either fasten through the tabletop with screws or you can predrill through the underside of the supports into the underside of the tabletop boards. Leave a 1/2″ gap between the tabletop boards. Use glue and 2 1/2″ screws when fastening through the top.
Step 2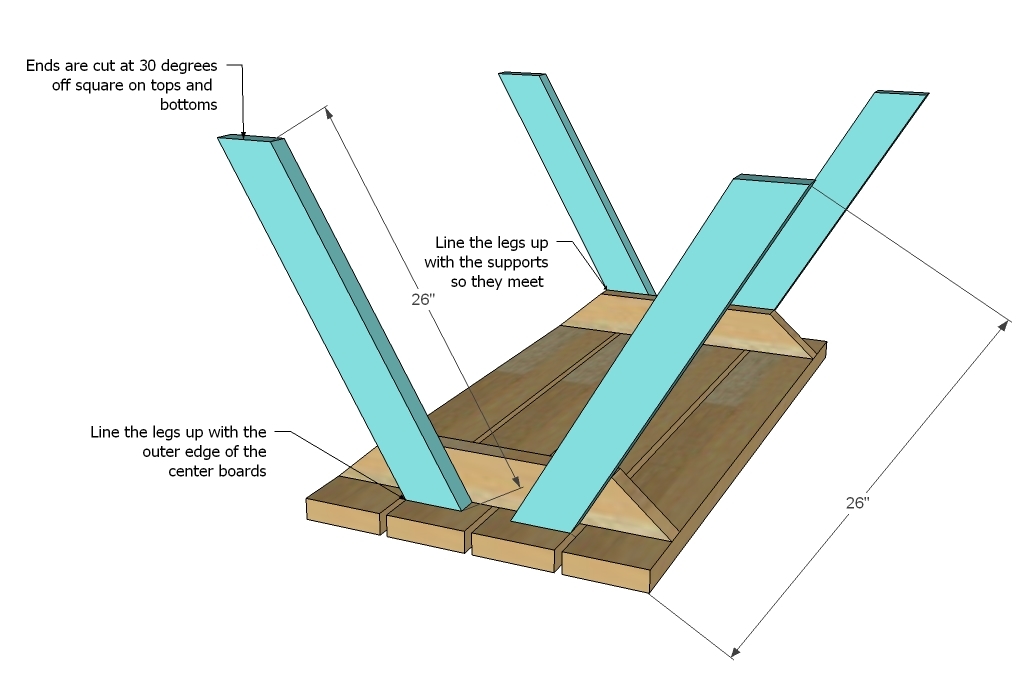 Legs. Cut your legs as shown above, with a 30 degree angle off square on both ends. Then use 2 1/2″ screws to fasten the legs to the tabletop supports. You could also use bolts for a stronger table.
Step 3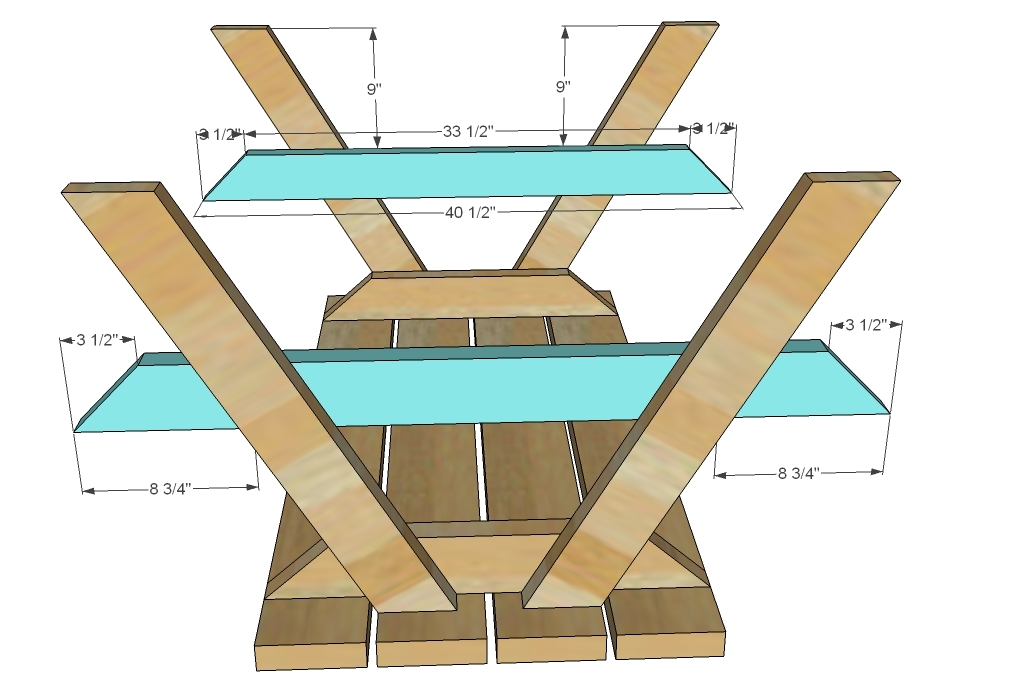 Seat Supports. Cut the ends of your seat supports as shown above. The angle is 45 degrees. Then fasten the seat supports to the legs as shown above.
TIP: cut two blocks 6-1/2" long and use as spacers to set the seat supports- there is 6-1/2 inches between the tabletop support and seat support.
Use a level on the seat supports to make sure you are fastening the seat supports level to the tabletop. Use 2 1/2″ screws and glue. If you fasten from the inside, you can hide your screw holes.
Step 4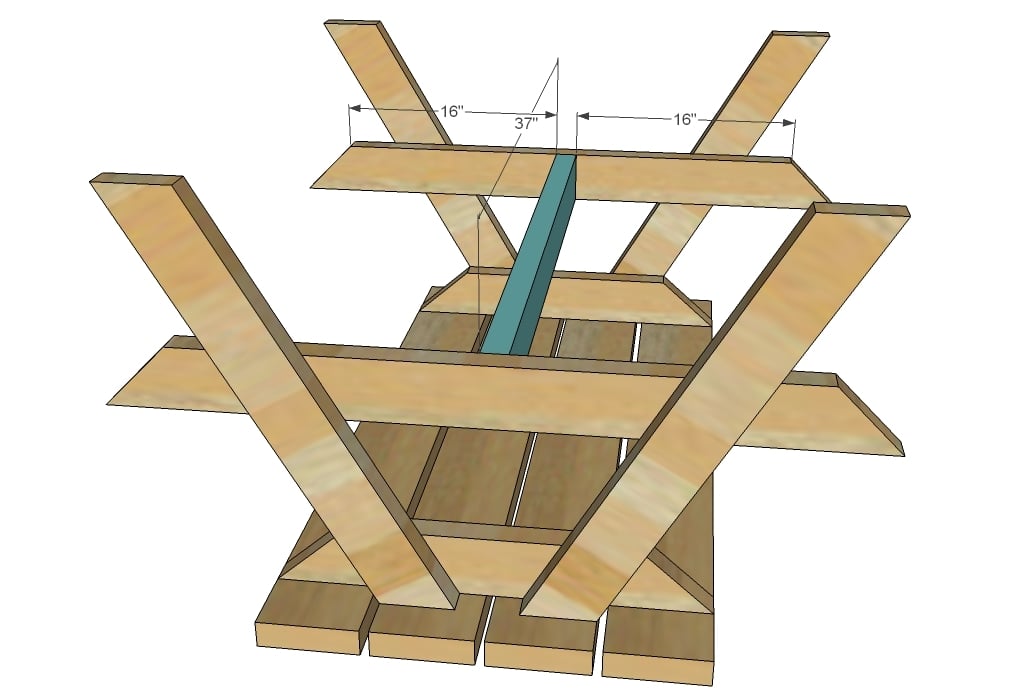 Bottom Support. Take a square of your table by measuring from the opposite tips of the legs. If the diagonals do not match, from the longer diagonal, push the opposite ends together until the diagonals match. Fasten your support in place as shown above. Use 2 1/2″ screws.
Step 5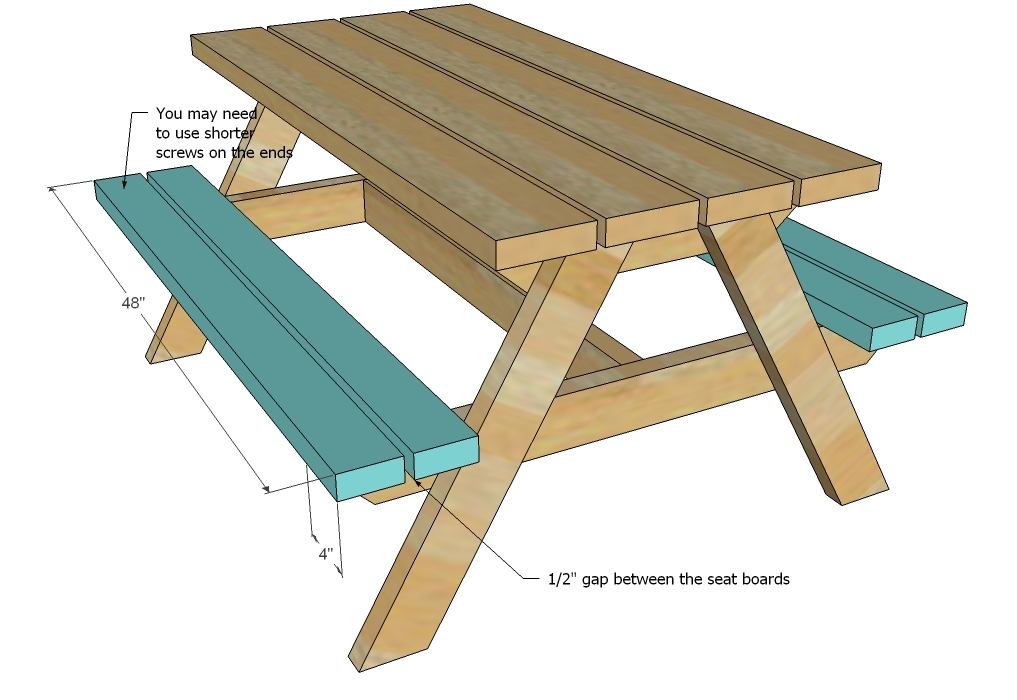 Step 6
Finishing. Fill your screw holes and sand and finish as desired.
We apologize if there was an error in this plan. Please help us out and report any errors here.