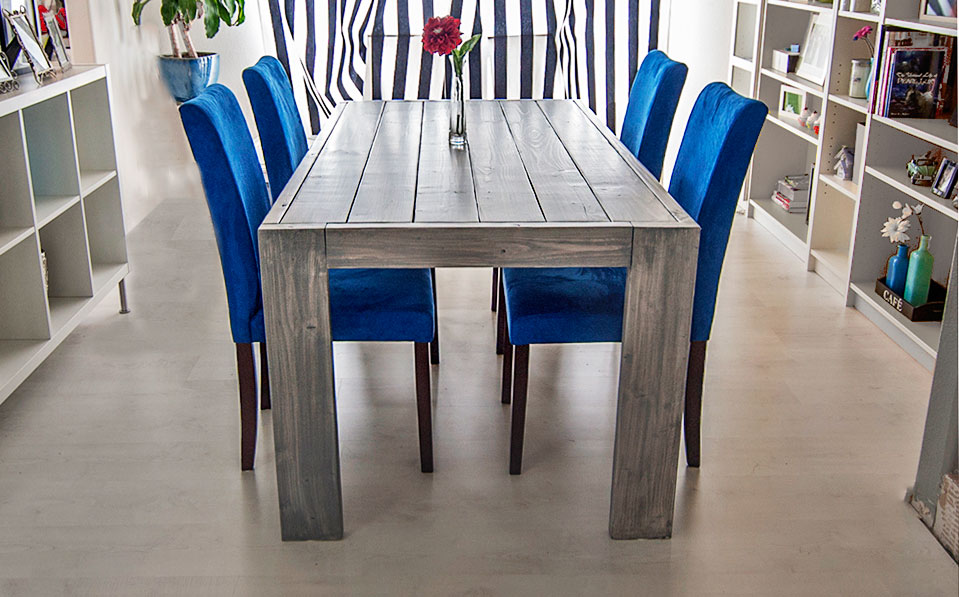 30" High x 66" long x 32" wide (approximate)
Preparation
Shopping List
6 - 2x6 boards (make sure these boards are VERY straight) (about $2.50 each)
5 - 2x2 board (under tabletop supports) (about $1 each)
2 - 2x4 boards (about $1 each)
2 1/2" wood self tapping screws
Sandpaper, ranging from coarse to fine
Wood Filler
Stain or Paint of choice
Common Materials
120 grit sandpaper
primer
wood conditioner
paint
paint brush
Cut List
A) 4 - 2x6 cut at 30" (Legs)
B) 2 - 2x2 cut at 33" (Inside End Supports)
C) 2 - 2x4 @ 63" (Side Apron)
D) 2 - 2x4 @ 25" (End Apron)
E) 7 - 2x2 cut at 33" (Under tabletop supports)
F) 6 - 2x6 cut at 63" (Tabletop pieces)
Cutting Instructions
It is very important that you measure the width of your boards and make sure they are 5 1/2" wide (tabletop boards) otherwise, your aprons could be short or long. See the Square Modern Farm Table Plans for a tutorial on how to build the tabletop first with pocket hole screws, and then attach the legs and aprons. That way you can adjust your aprons as necessary.
Instructions
Step 1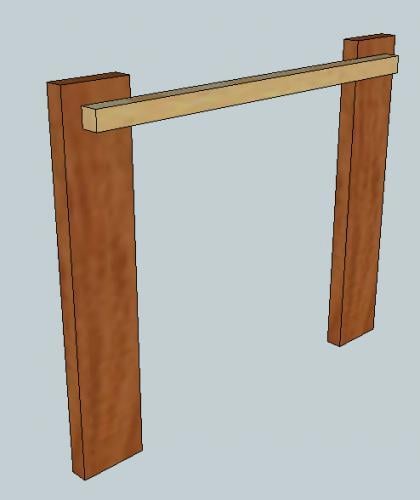 Start by taking 2 of the leg pieces, A and marking 1 1/2" down from the top, and 1 1/2" in from the outer edge. Then screw one of B, the outside end support, to the two legs as shown above. Do the same for the other set of legs.
Step 2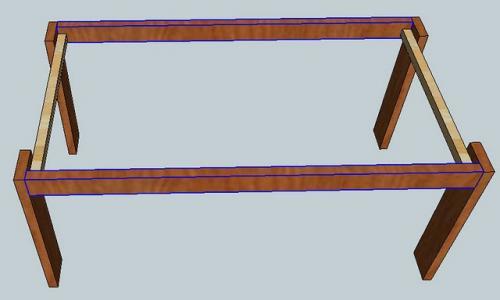 Now add the side aprons, C, as shown above, screwing into the end support, B. Also, screw through the outside of A, the legs, into the end edges of C, the side apron. Now is a good time to check for square. If you do not know how to check for square, see the HOW-TO section for a tutorial.
Step 3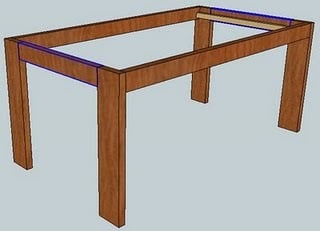 Now add the end aprons, D, screwing into B, the end supports. Again, check for square.
Step 4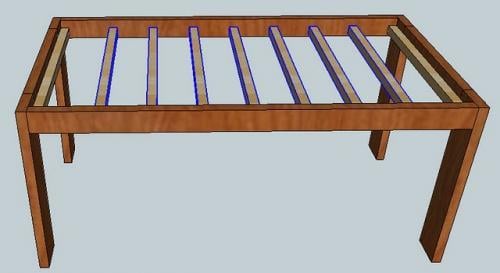 Measure down 1 1/2" down from the top of the side apron, and mark all the way down the length of the apron. This will be the top side of the tabletop support pieces, E. Then mark every 6" and place a board E, keeping the top edge 1 1/2" below the top of the table, as shown above. Do not worry about the last support piece not being exactly 6" from the end - this does not matter. Make sure your project is square.
Step 5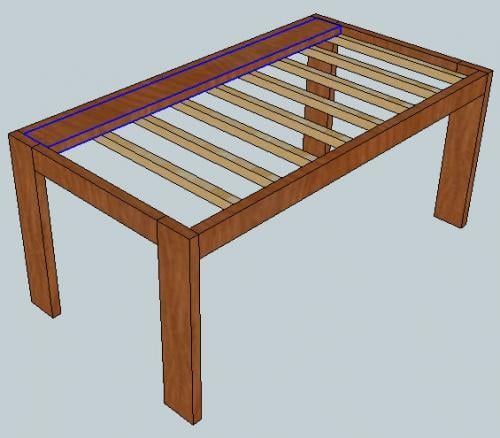 Step 6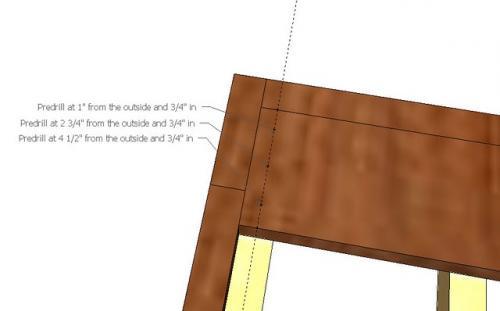 Screw pattern for the tabletop pieces shown above.
Step 7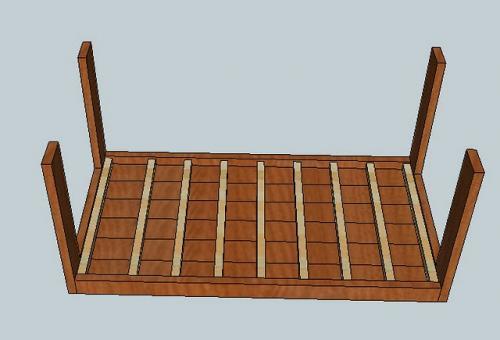 Flip the table over on it's top and predril through all the 2x2 support pieces, drilling two holes per tabletop piece, per support piece. You will drill a total of 108 holes. Screw the top to the 2x2 support pieces through the predrilled holes.
Preparation Instructions
Fill holes with putty and finish as desired. If you are staining the table, you may wish to fill the screw holes after staining, as wood putty does not stain the same color as natural wood.
We apologize if there was an error in this plan. Please help us out and report any errors here.