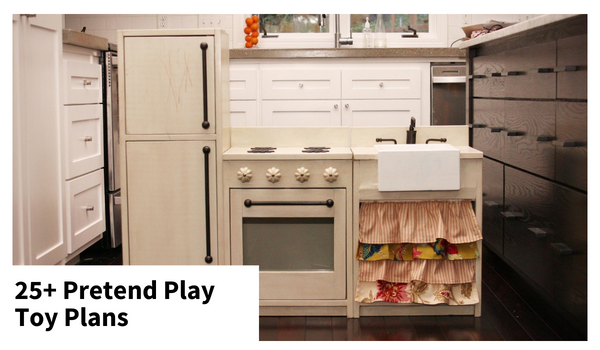 Create hours of home playtime, device free, by building your child pretend play pieces.  From play kitchens to farmer's market stands, and everything in between, encourage the pretend play!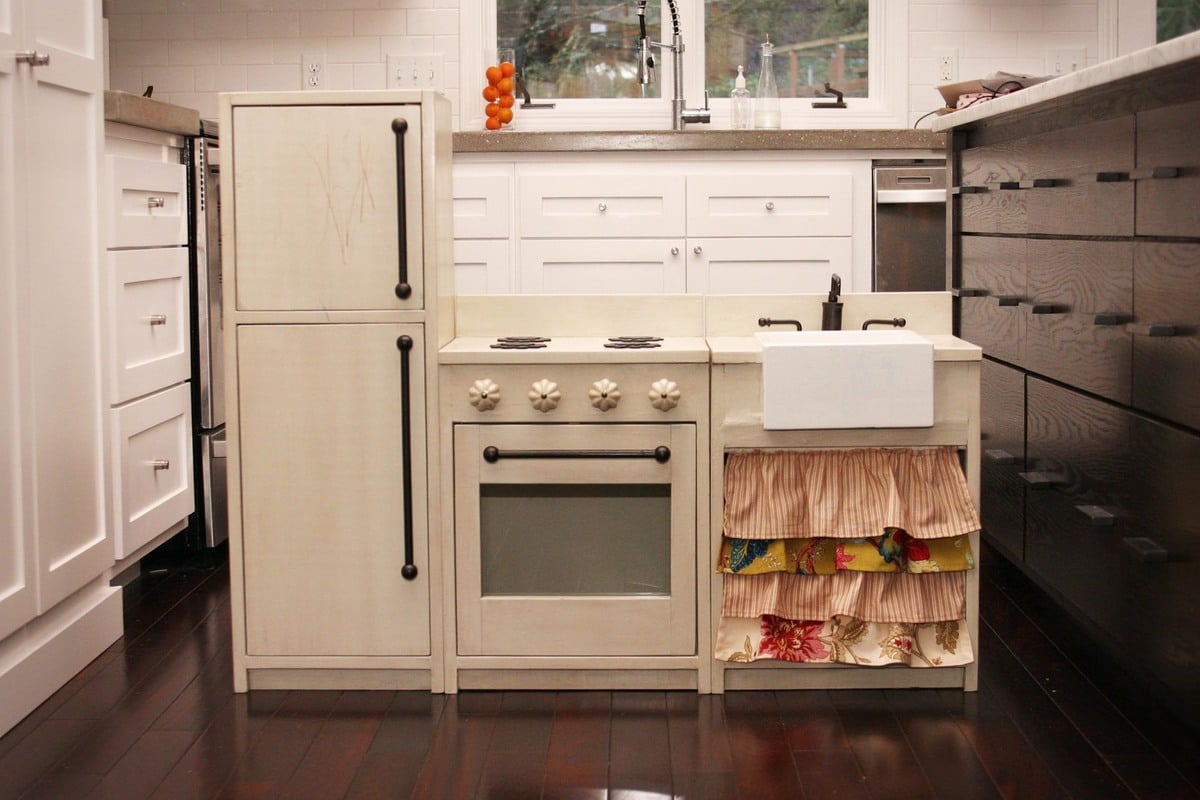 Built by LIZDMAYFIELD
Build your own play kitchen and customize and accessorize to match your home.  This children's kitchen is so adorable! Our free plans use off shelf materials and simple building skills.  This plan is for the play kitchen sink and stove.  We also have free plans for the matching play kitchen fridge. 
Inspired by Land of Nod, this looks like the real thing! To make this wood play kitchen stove, we used up 1 - 1x12 board (about $15 here) and the rest was scrap wood random stuff left over from various other projects.  Save the little stuff - it's what can transform a $15 board into a solid wood play kitchen!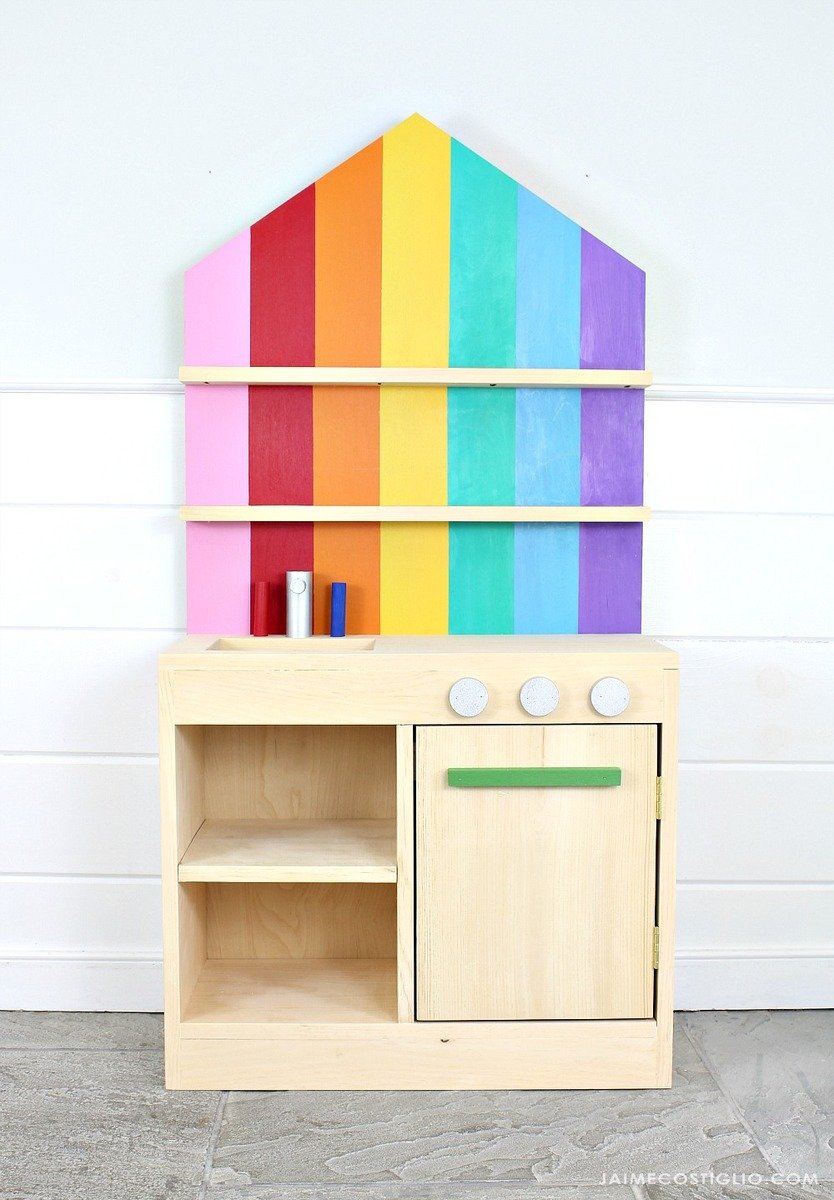 How cute is this play kitchen?!
A new, easy to build play kitchen!  The kitchen is just 1x12 boards (the door too) and the back is an off the shelf 24" x 48" plywood panel, so no difficult cuts needed. Have fun designing the back to create a one of a kind play kitchen for your child.
Built and shared by Jaime Costiglio
The goal of this plan is to create a play kitchen that is one piece, perhaps a little more compact without losing the storage.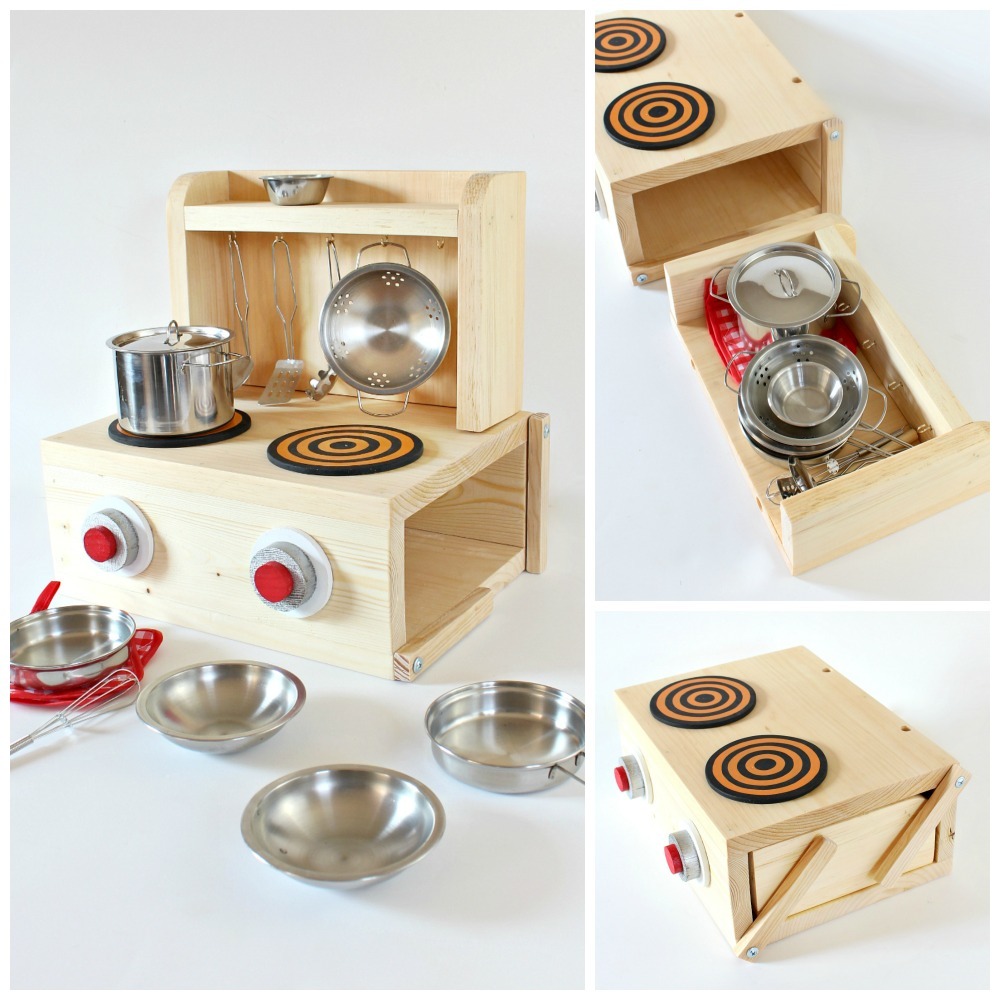 Built and shared by Jaime Costiglio
DIY tabletop play kitchen that folds up into a small storage box. So smart and would make a great handmade gift!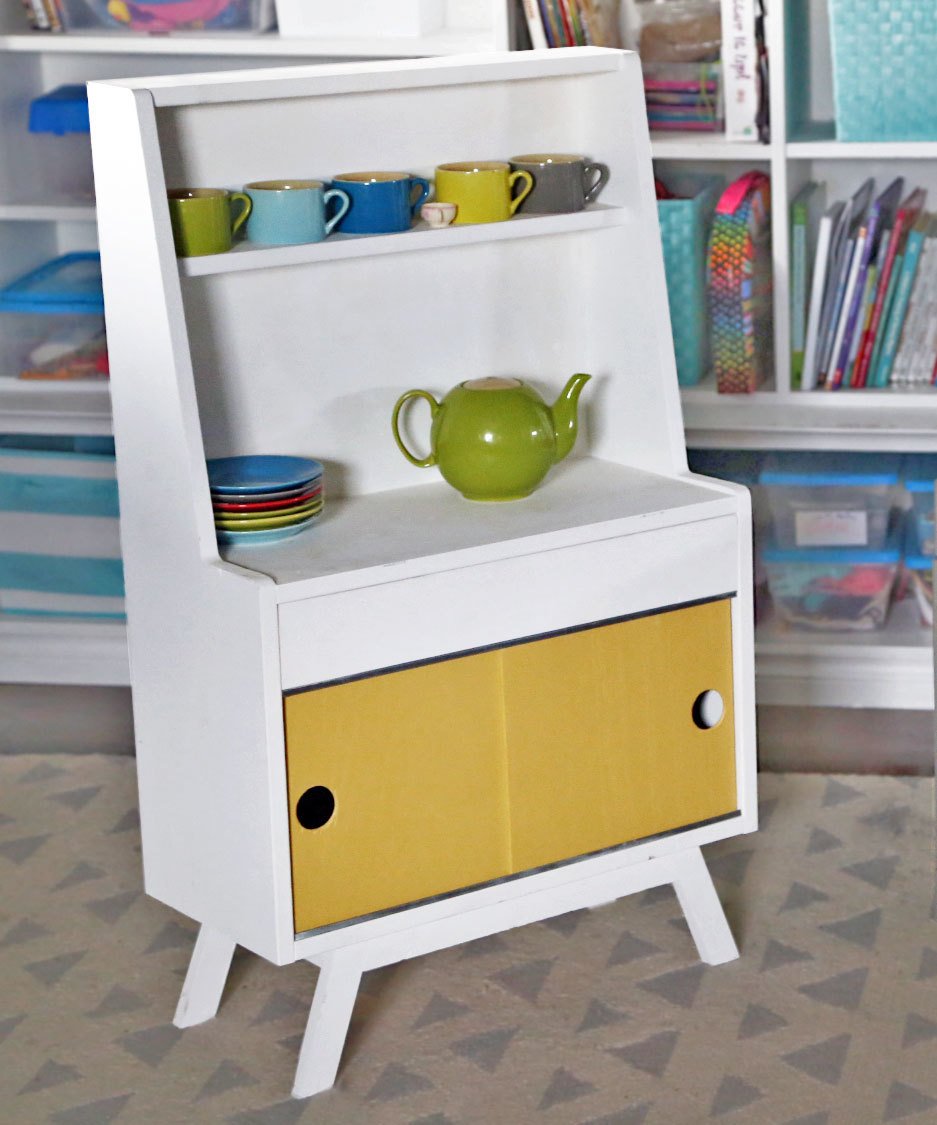 DIY retro play kitchen dish hutch for kids! I love the retro styling, and how it's not too girly.  I very much appreciate that my husband helps in the kitchen and can cook, and definitely want my son to be just as comfortable in the kitchen.  So why not start him out early and encourage our little man to cook from the beginning?  A gender neutrel kitchen was the trick.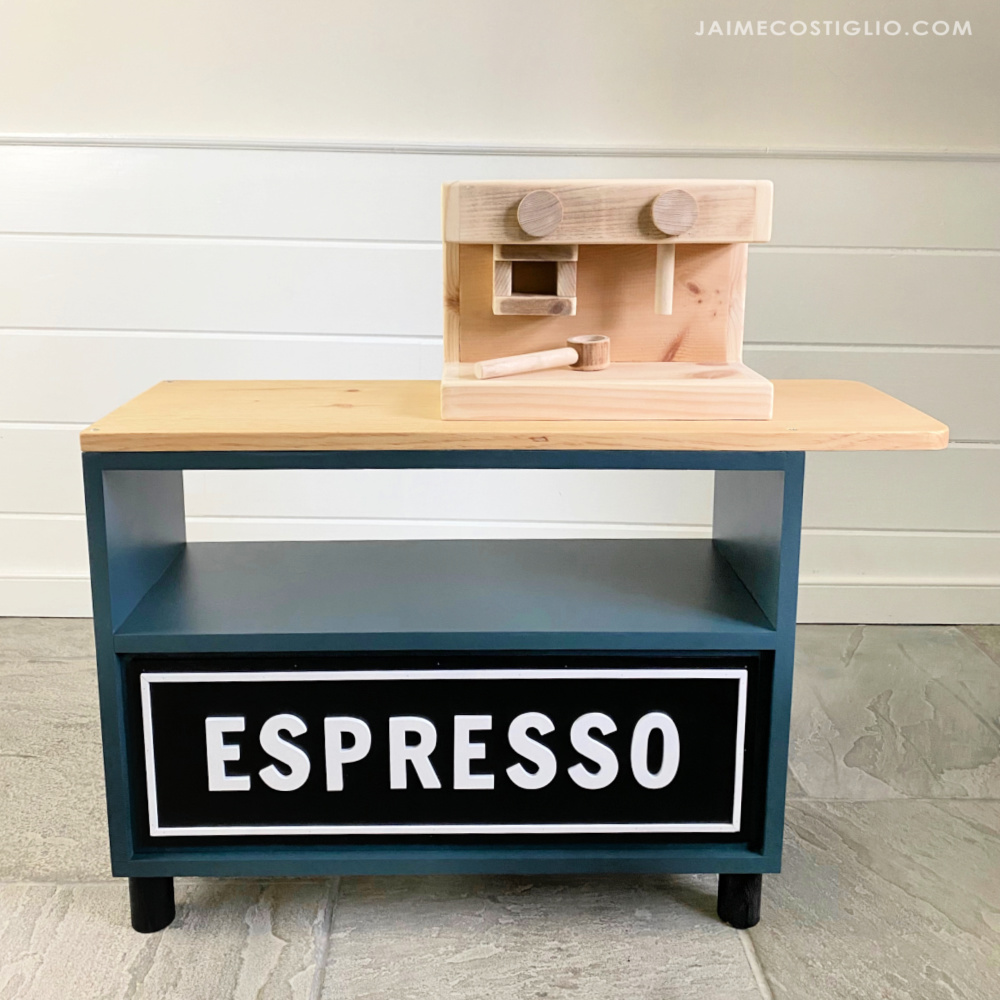 Built and Shared by Jaime Costiglio
 
We are so excited about this pretend play coffee cart - complete with an espresso machine made from scrap wood!  It's so darling, you'll want this in your living room.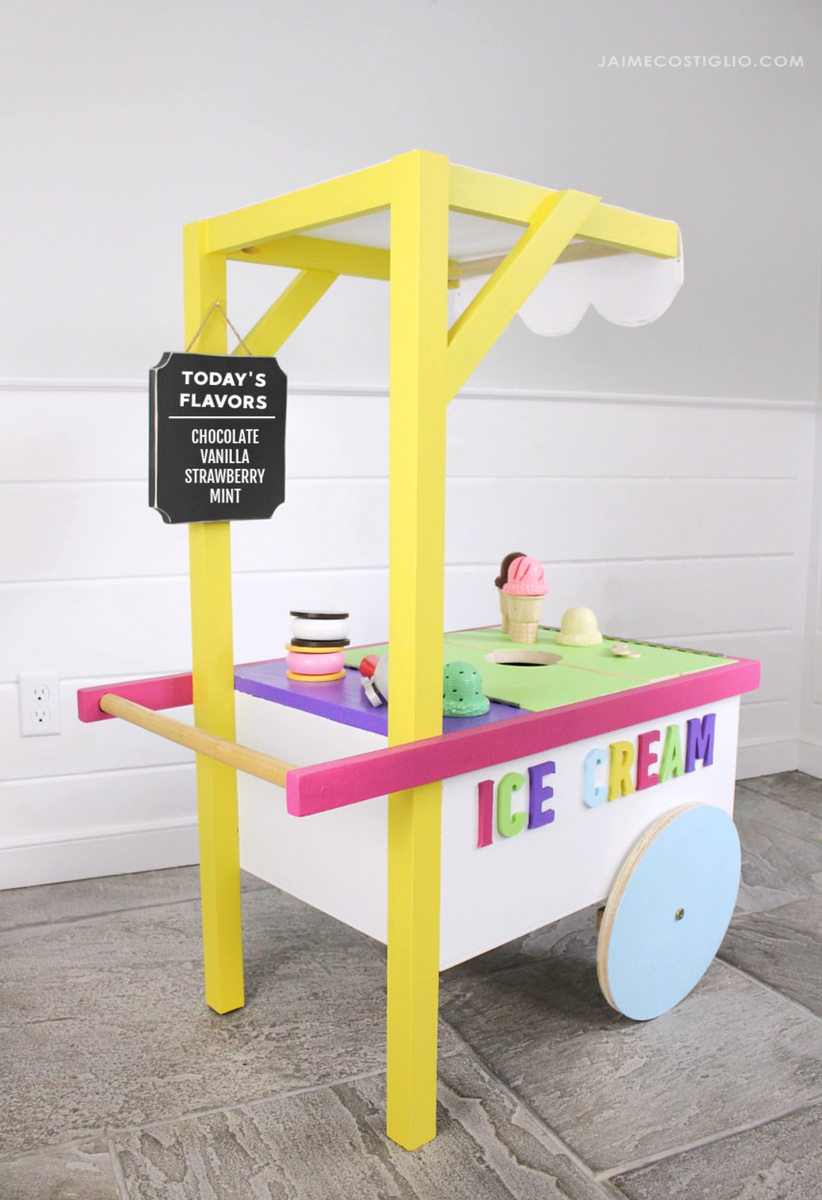 Built and Shared by Jaime Costiglio
Are you looking of the perfect Christmas gift for your little ice cream lover?  This adorable ice cream cart is made of wood, and features rolling wheels and a roomy ice cream storage area.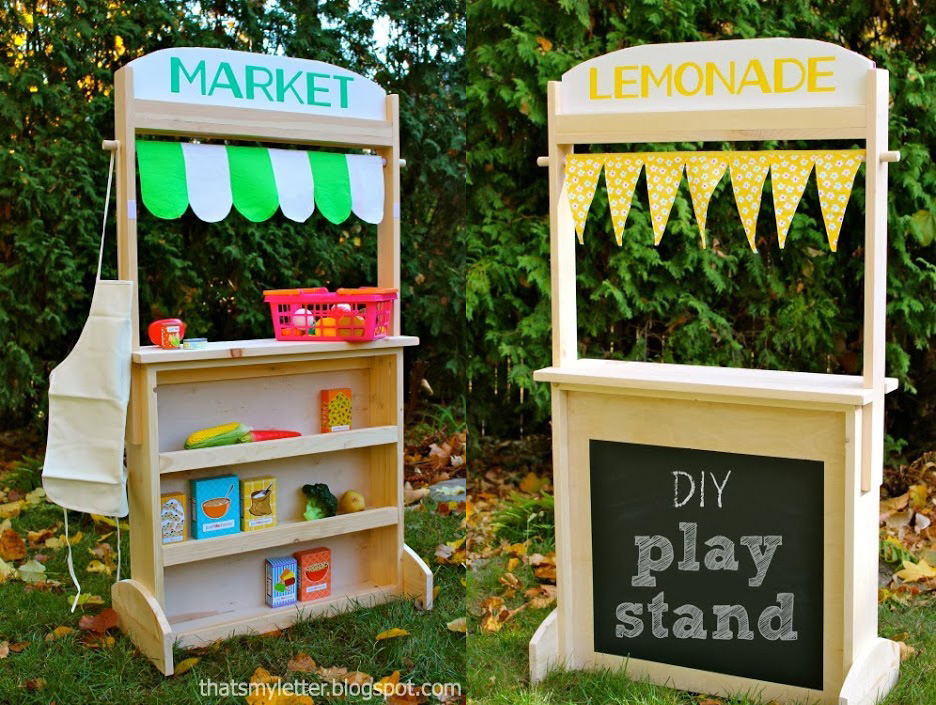 Built and Shared by Jaime Costiglio
This is an ultimate play stand. Your child will love this pretend play stand that becomes a play market, play post office, puppet theater, lemonade stand - or much more!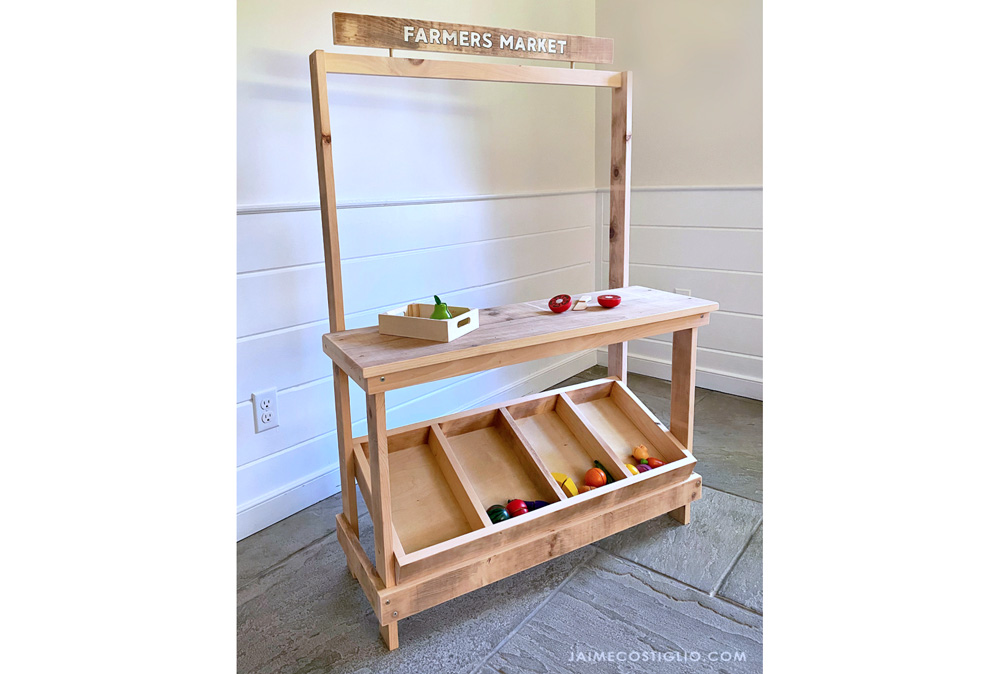 Built and Shared by Jaime Costigio
This mini sized farmer's market stand can create hours of pretend play!  Customize, accessorize, or paint any color! It's an easy build with free step by step plans and diagrams.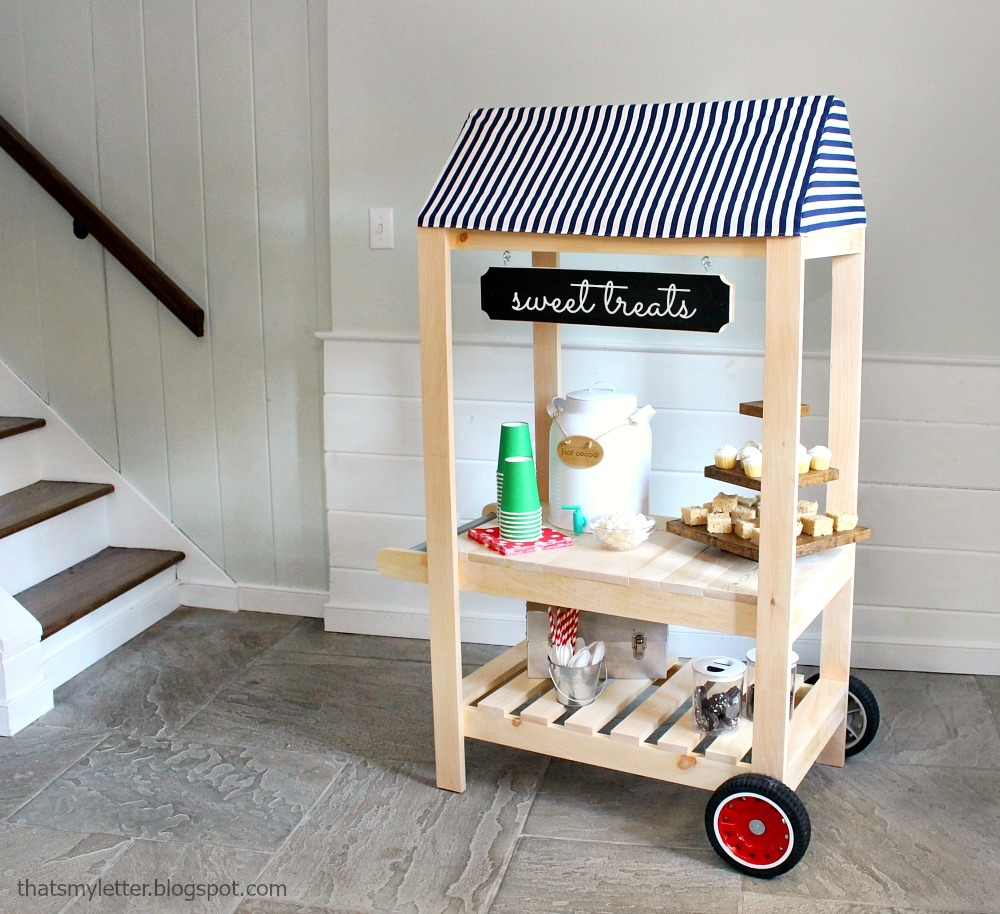 Built and Shared by Jaime Costiglio
What will your budding entrepreneur "sell" from their vendor cart? Whatever your child dreams up, this little pretend play toy street vendor cart will make it all possible. It's a beautiful solid wood piece, that is easy to make out of 1x3 boards that you can customize to your heart's content.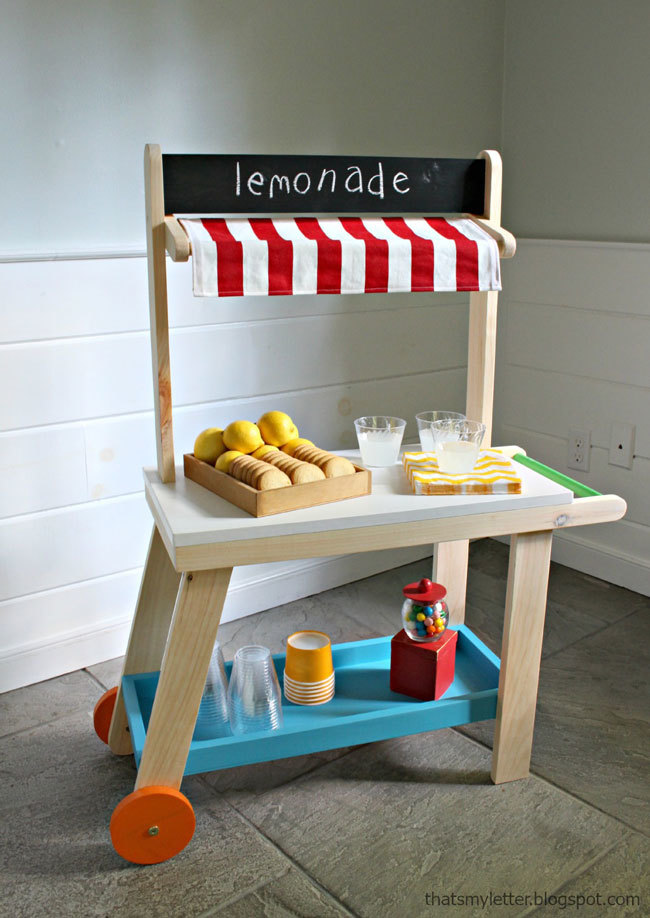 Built and Shared by Jaime Costiglio
Make this adorable diy lemonade cart!  Can also be used as a play cart bakery or popcorn stand! Sized smaller for preschoolers.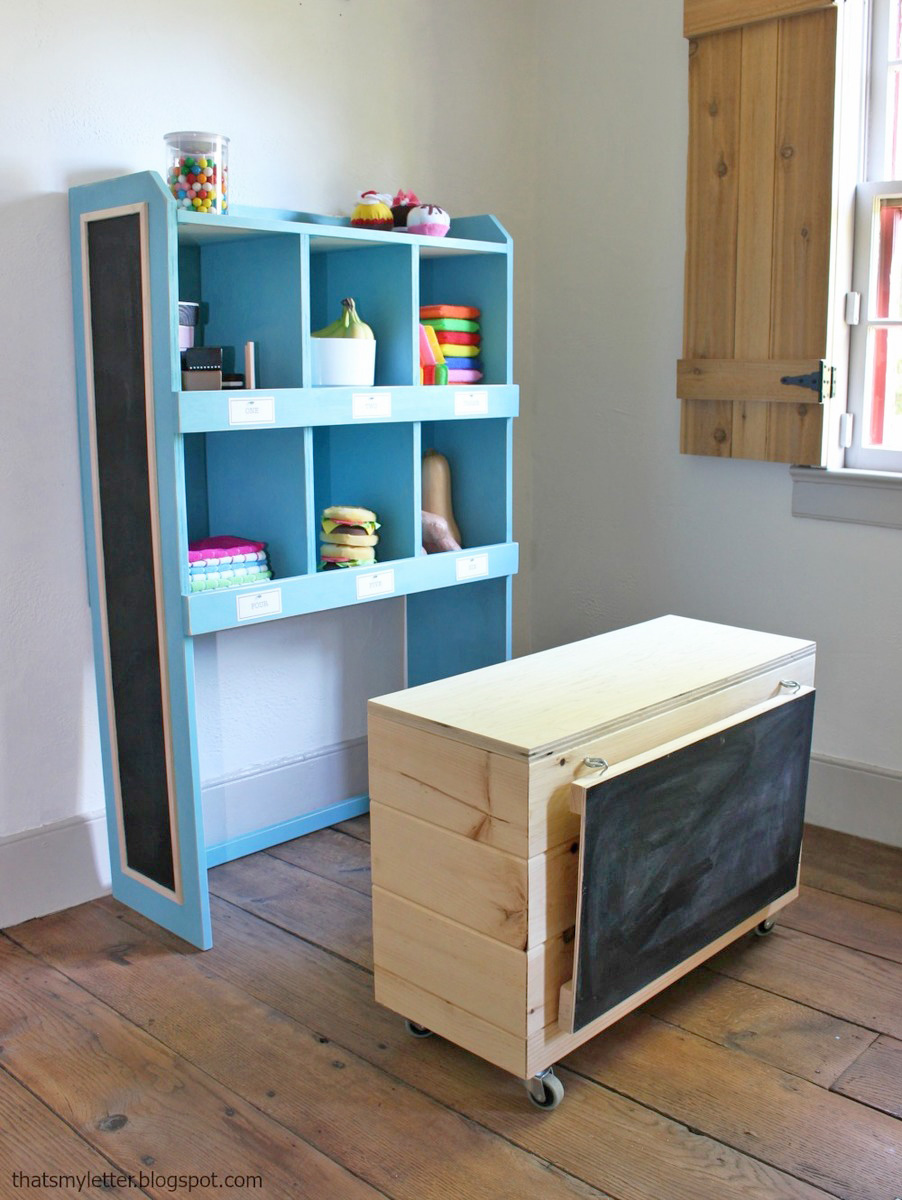 Built and Shared by Jaime Costiglio
Wheel out the check stand and open for business!  This pretend play set is perfect for imaginative play - play market, store, post office, bakery - anything they can dream up!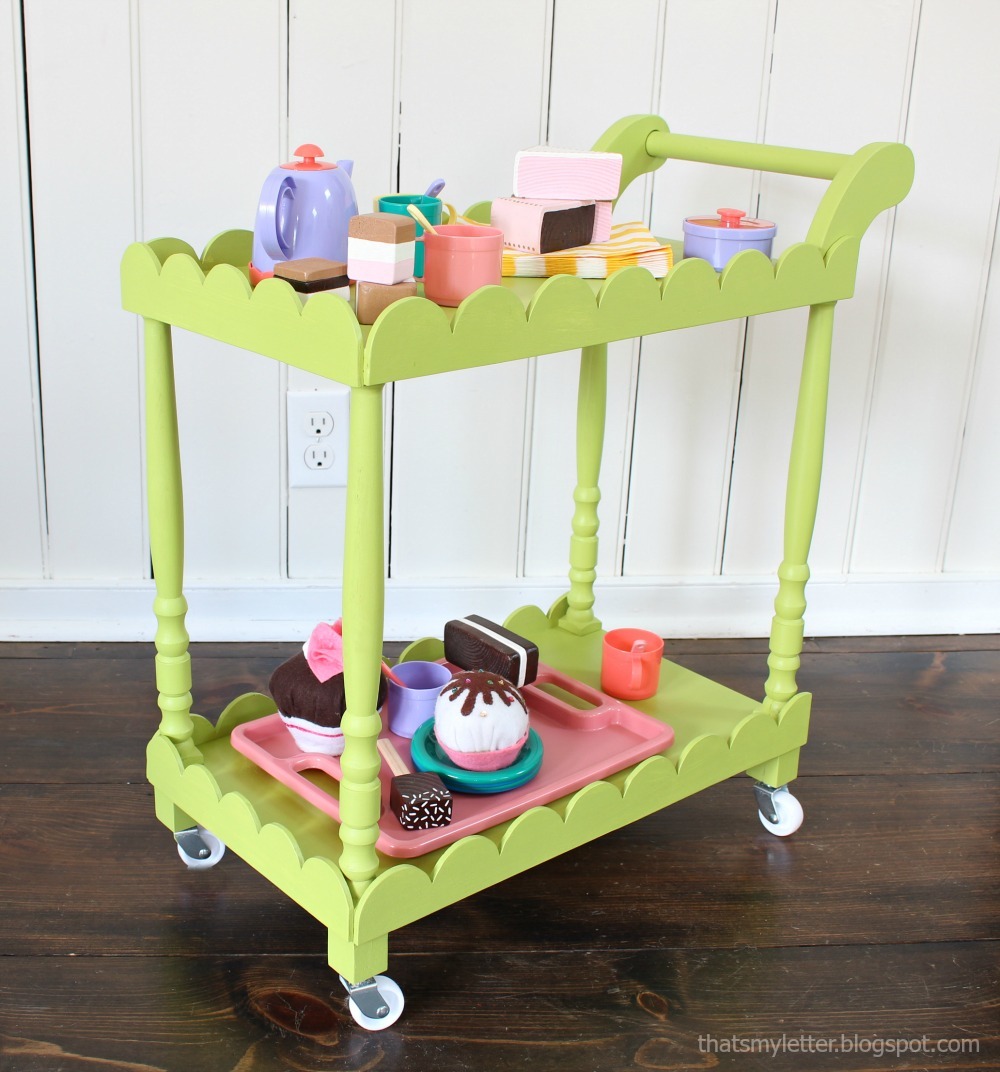 Built and Shared by Jaime Costiglio
This adorable kids tea cart is designed for toddlers, and is made of wood and stair spindles for legs.  It's sturdy and easy to make, sure to be treasured!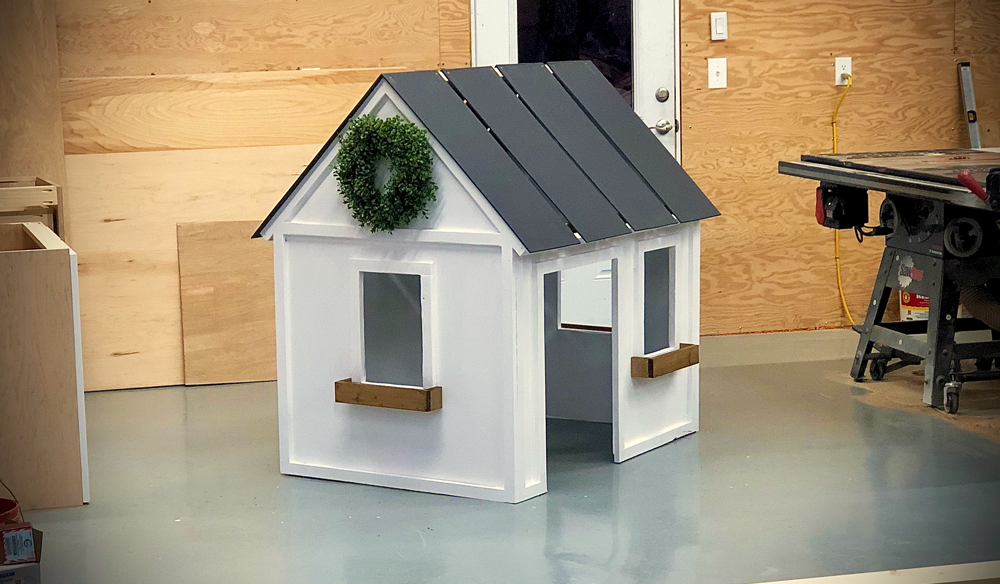 Playhouses aren't just for outdoors, and let's be honest, "playing house" is the ultimate fun in pretending! Sized similar to play tents, so it fits anywhere, but won't break and feels more like a playhouse. This well thought out plan maximizes material use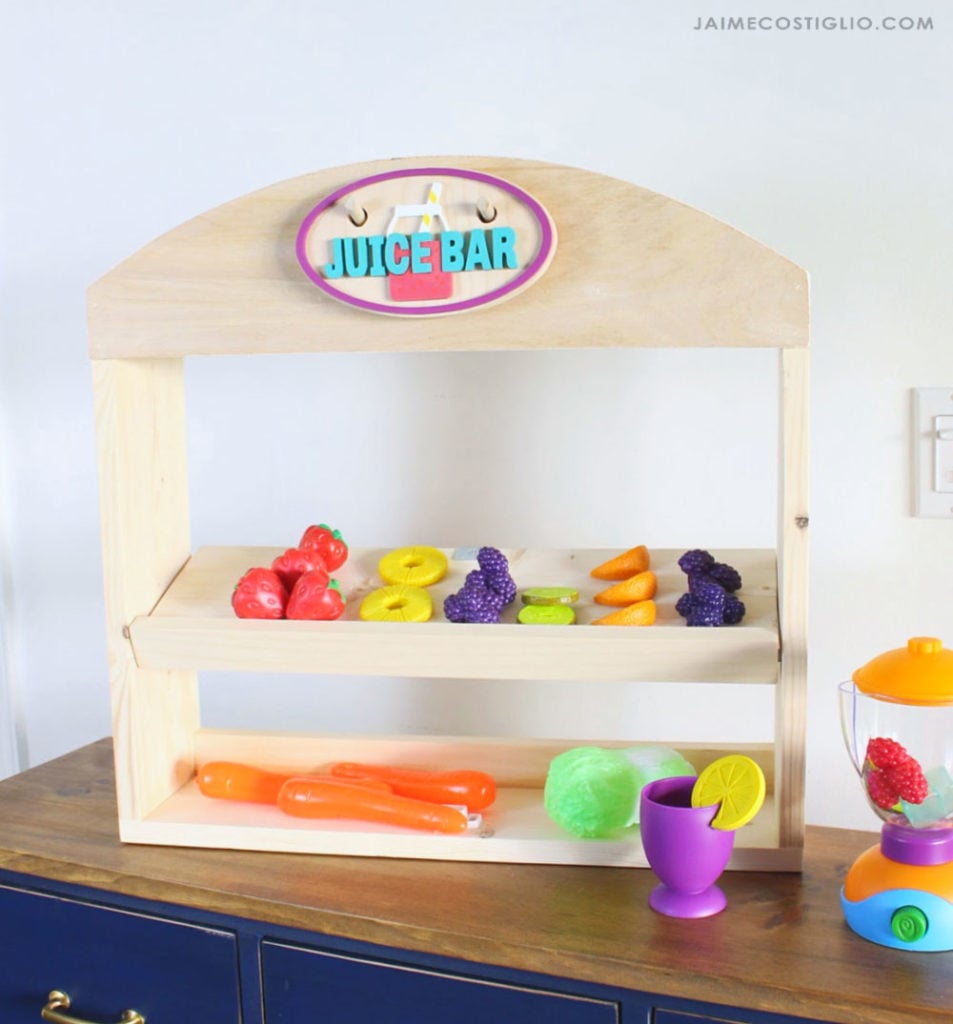 Built and Shared by Jaime Costiglio
This plan is so simple and super verstatile! Easily converting from a tabletop puppet theater to a storefront - children will love playing for hours.  It's a simple DIY project made with just one 1x6 board and some 1x3 pieces.  You can customize and personalize it to make it even more special.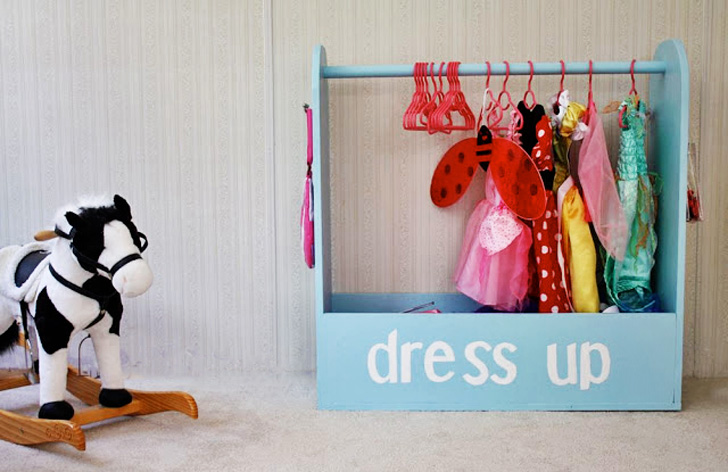 Built and Shared by Craftiness is Not Optional
 This dress up storage project features a hanging closet rod and lots of storage for all the accessories and the shoes in the open base. Perfect for little boys and girls who love to dress up! Store it all in one place, making it easy to pick out their "ever changing" characters and outfits. Stores nicely away when they're done.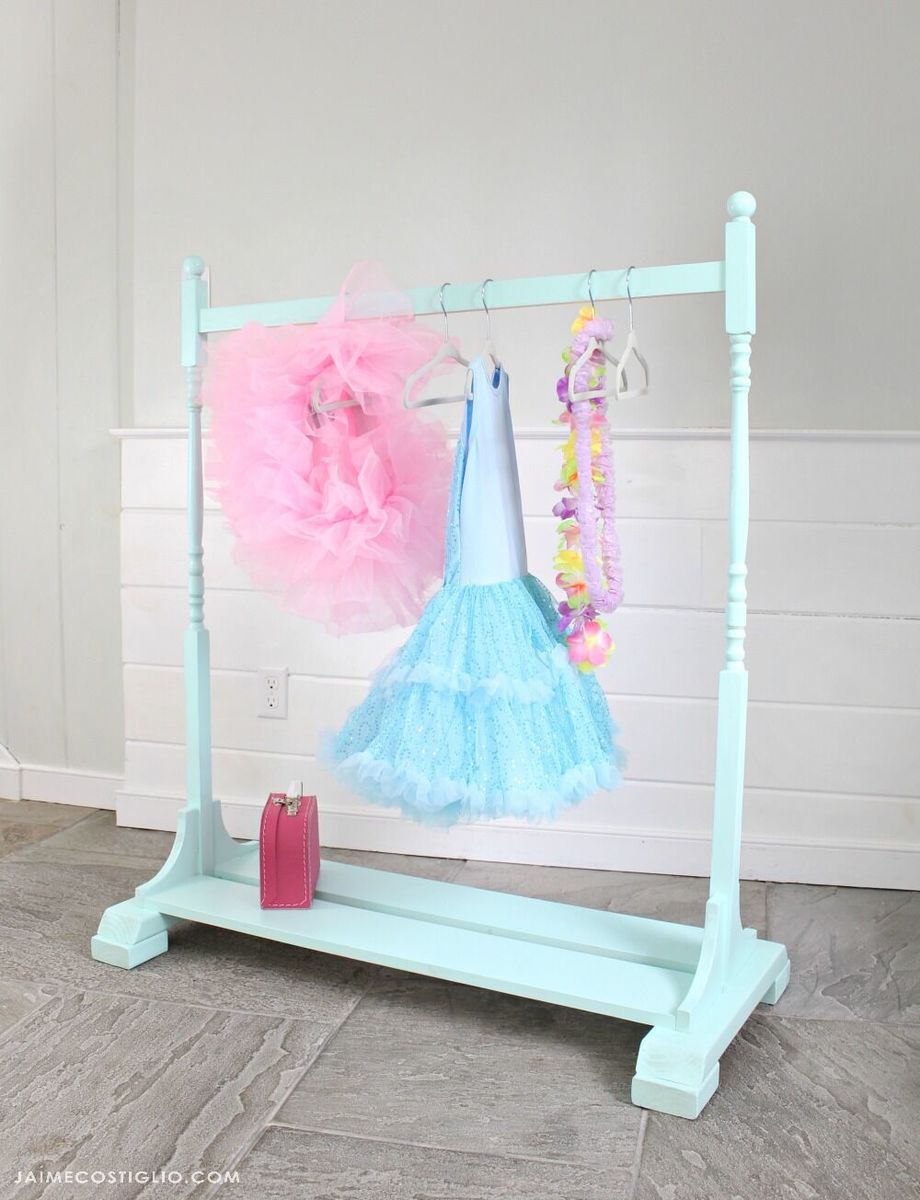 Built and Shared by Jaime Costiglio
DIY Dress Up Rail made from stair spindles!  Do your children love dress up?  Part of the fun is having storage just as beautiful as your dresses! This would work great for laying out clothes for the next day too!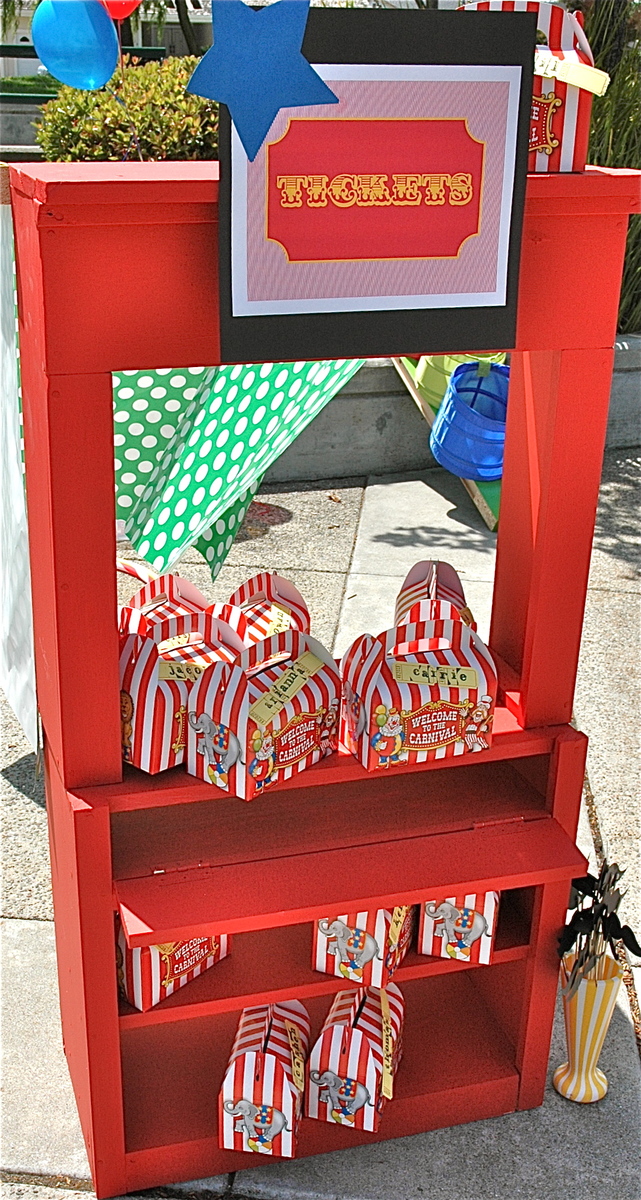 Kids love to put on shows!  Make a ticket booth for them to use at the doorway to encourage sign ups.  Free plans from Ana-White.com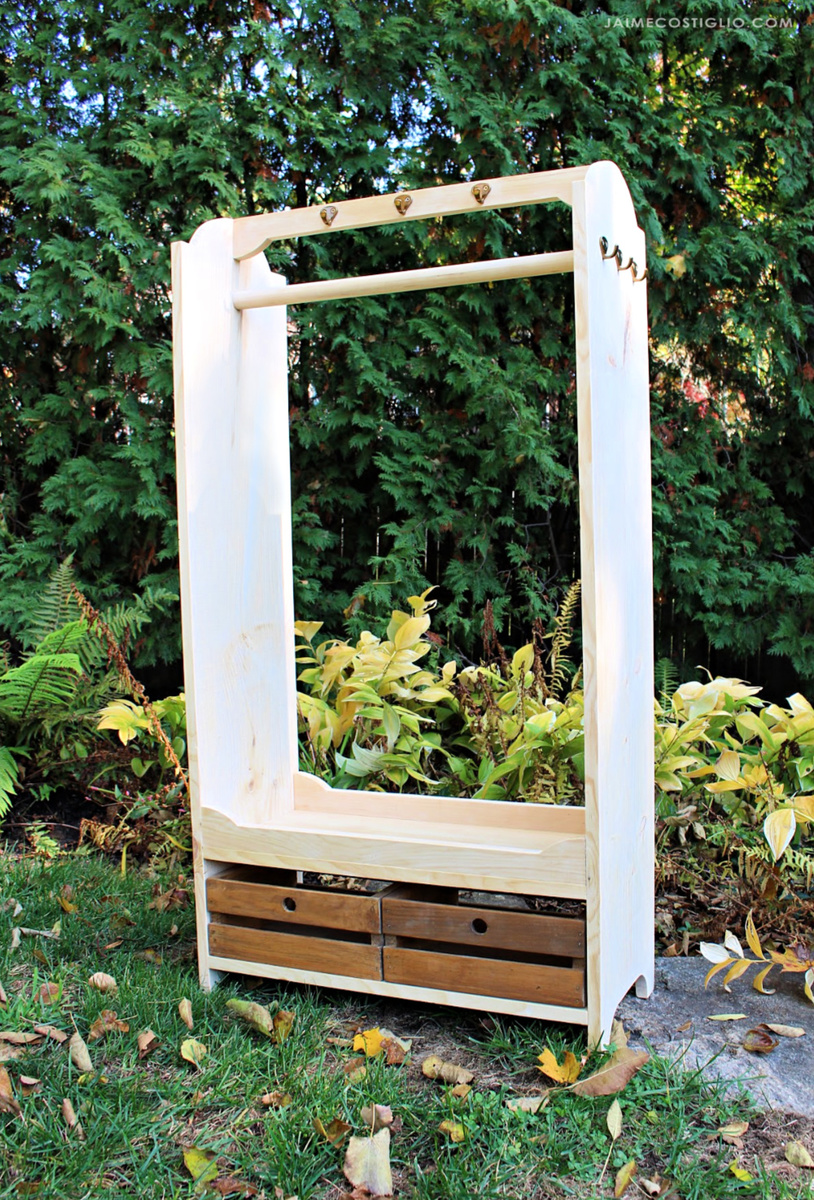 Built and Shared by Jaime Costiglio
Build a dress up wardrobe to keep all the costumes and accessories organized! This plan includes hooks, a closet rod and extra storage for accessories and shoes. Give it as a gift and add some new costumes, the kids will be sure to love it!
This super easy to build lemonade stand is made of fence pickets to keep the cost down.  Free plans include diagrams, shopping list and cut lists.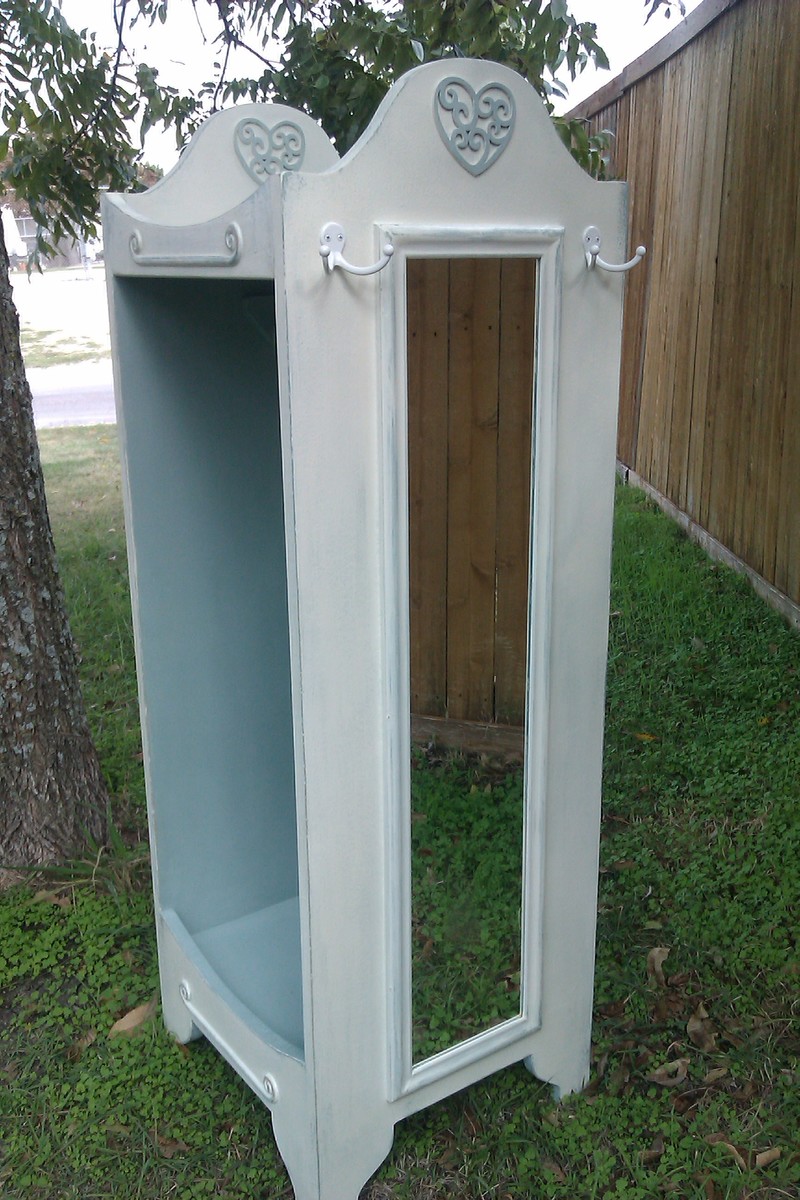 Built by Beckie Decker
If you're looking for a fancy version to store dress up clothes, this tower is it. Add a mirror so the children can admire their look!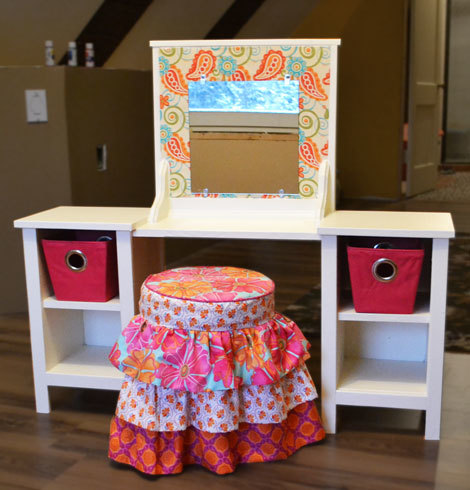 Complete the pretend play and dress up with this kids sized vanity. The towers make it easy to store all the things!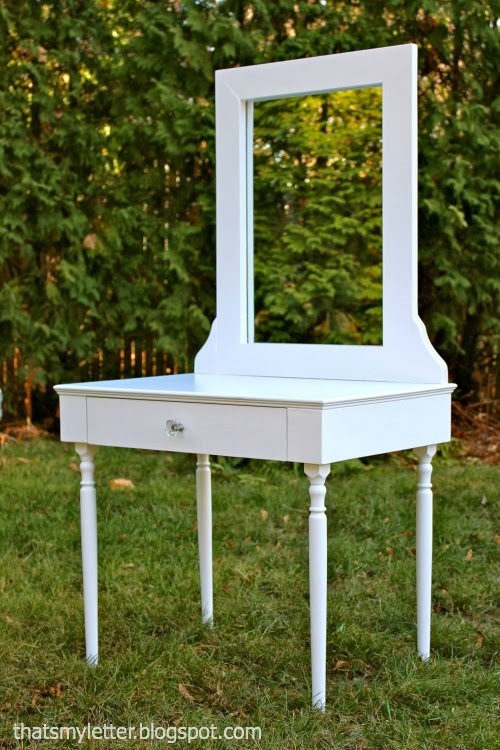 Built and Shared by Jaime Costiglio
Another darling vanity with drawer storage! This plan doesn't take up a ton of space. Be sure to check out the super cute stool plan that goes with it!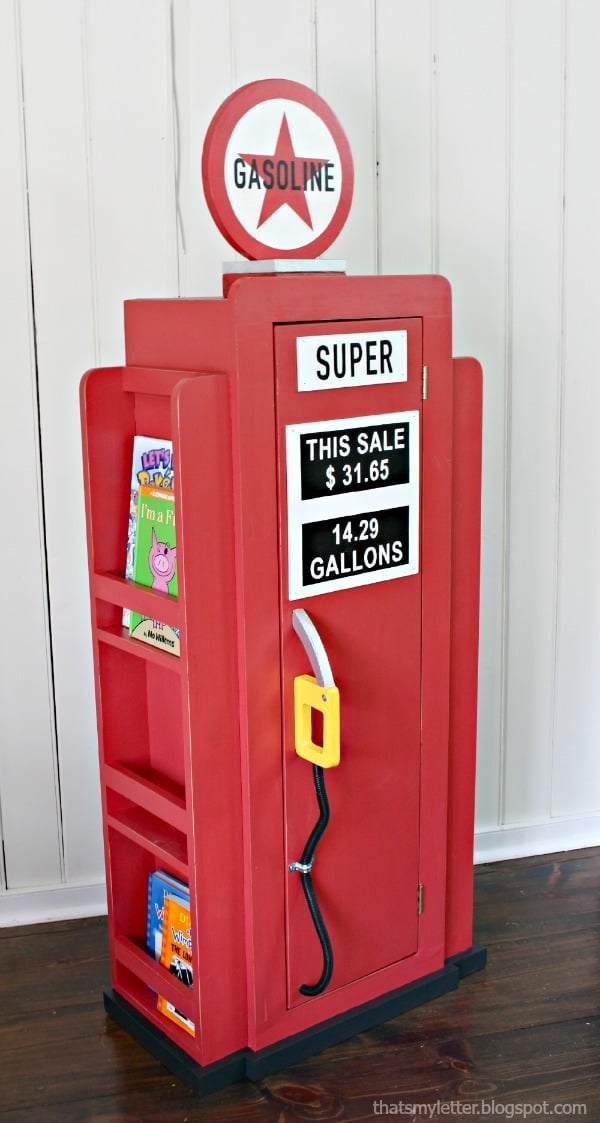 Built and Shared by Jaime Costigio
While the kids let's their imaginations run wild while reading their favorite books, create a darling gas pump cabinet and bookshelf for even more pretend play!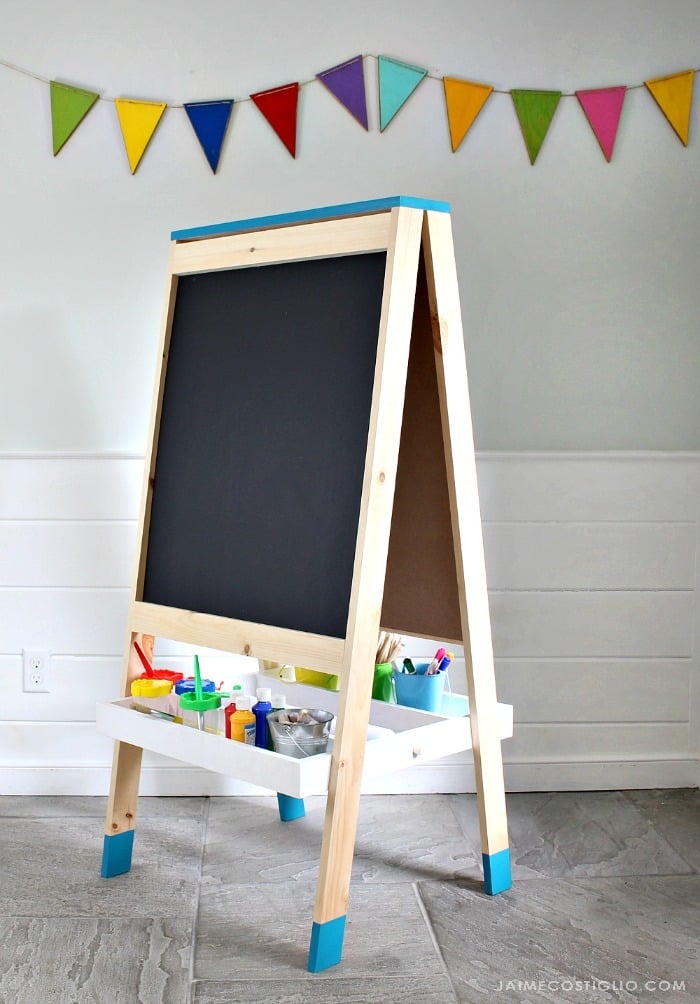 Built and Shared by Jaime Costiglio
What better way to allow creativity and imagination than with a blank slate. This easel for kids features a double sided design with trays and surfaces of your choice on each side.  The center holds a paper roll that can feed to either side easily.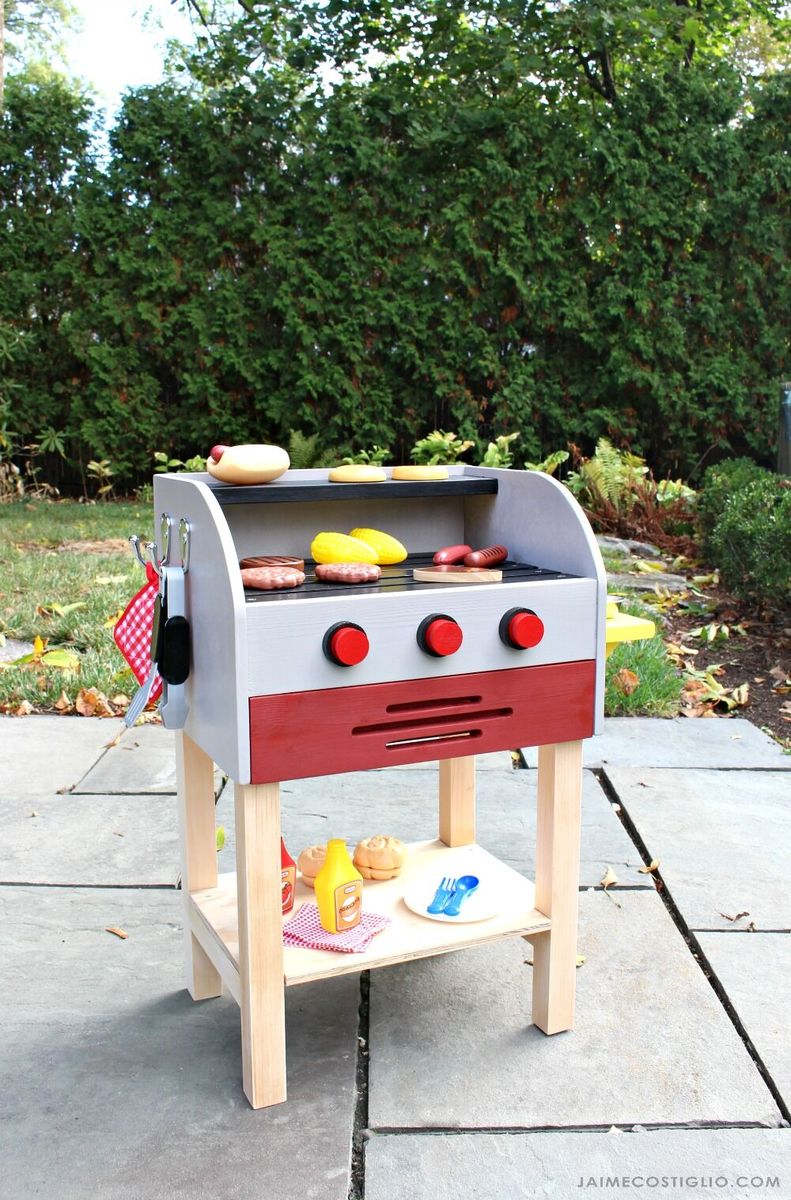 Built and Shared by Jaime Costiglio
For the outdoor cooking experience, how adorable is the wood play grill!!!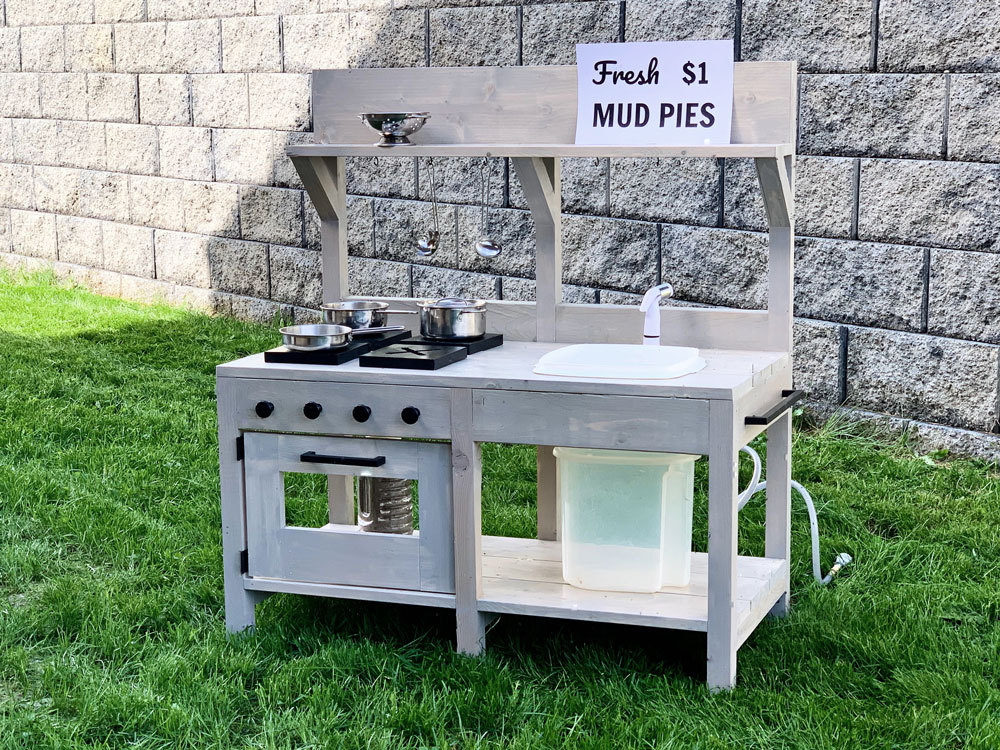 Great for outdoor play! My kids have always loved play kitchens, and I've built many.  But not having a working sink with real running water always required alot of imagination. 
Now you can build a mud kitchen with a REAL WORKING SINK for your child! 
The best part of the kitchen is the sink!  Right? 
Built and Shared by Jaime Costiglio
Using inexpensive Home Depot totes, this sand and water table can be "covered" when the kids are done playing! We've included a bottom shelf for all the fun tubs, shovels and extras to make play time easy to put away and clean up!
Want even more DIY Outdoor Playhouse Projects? Here's a round up of some of our favorites!